Mr. English and I are celebrating our fifth Valentine's Day together today.  I say today, because long ago we decided to start observing on the thirteenth.
We were both students at Oxford on our first Valentine's day, and we'd been dating about four months.  We went to this really lovely restaurant called Gee's.  It's an old Victorian glass greenhouse converted into a restaurant.  Really cool.  There we were, a couple sandwiched between couples.  We could hardly even talk to each other without feeling like we were having pillow talk with six other people.
I'll never forget what Mr. English ordered that night: chorizo and calf's heart.  The red from the paprika in the chorizo leached out onto the plate and made it look like the baby cow heart was bleeding.  I think it was supposed to be some sort of romantic culinary pun, but it was more sociopathic than romantic.
Since then, we've been celebrating on the thirteenth.  To avoid the couple sandwiches.  And the bleeding cow hearts.
This year, Mr. English and I went to one of our favorite London restaurants on Saturday night, J. Sheekey Oyster Bar, where I had, stop-my-heart, squid and wild boar cassoulet.  Amazingly delicious.  And tonight, we'll be heading to our favorite local pub to celebrate the thirteenth with a steak and ale pie and a glass of wine.  But tomorrow, we're just going to stay home, and this is what I'm going to make: a simple, kind of cheat's paella.  It's perfect for the week because everything can sit in your pantry or freezer, and it takes like 15 minutes to toss together.
I start with chorizo, for some nostalgic rib-jabbing, and add some garlic and spring onions, and then a medley of seafood–shrimp, scallops, even calamari if you like it.  Then, I throw in Spanish pantry staples: roasted red peppers, peas, green olives, and artichokes.  I stew that together, and throw it over some yellow rice, which you can buy or make.  It's a great way to stretch a buck and to make something romantic and exotic for Valentine's.  Plus, the whole dish is red and pink from the chorizo, peppers, and shrimp.  Serve with a rosé Rioja if you can get it.  To love!
Red, Red Spanish Chorizo and Seafood Stew
serves 4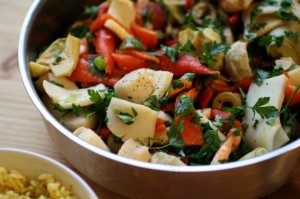 INGREDIENTS
2 tablespoons olive oil
¼ pound dry Spanish chorizo, cut into half moons
2 green onions, sliced
2 large cloves of garlic, sliced
1¼ pounds mixed seafood: any combination of large peeled and deveined shrimp, bay scallops, and calamari rings*
½ cup frozen peas
4 roasted red peppers from a jar, sliced
15 pitted Queen olives, halved
7 canned artichoke hearts, halved
1 huge handful flat leaf parsley, roughly chopped
Spanish yellow rice, to serve
PROCEDURE
Heat the olive oil in a wide, high-sided braising pan over medium heat until the oil shimmers.  Add the chorizo, and cook until the red oil has leached out and the chorizo starts to crisp up: 5 minutes.  Add the green onions and garlic, and cook 1 to 2 minutes until fragrant.
Add the seafood, from fresh or frozen.  Season with salt and pepper, turn the heat to high, and cover.  Cook until the shrimp turn pink and the scallops and calamari just turn opaque.  About a minute before the seafood is done, stir in the frozen peas, and keep covered.
Stir in the peppers, olives, artichokes, and parsley.  Serve with yellow rice!
NOTE
* You can use fresh or frozen seafood, and you can cook them from fresh or from frozen.
print this recipe