I'm so excited about this month's unsung hero: parsley.  I know, I know.  But hold back that skepticism.  Parsley is on the rise, and it's not being shy anymore!
There was a time when I didn't like parsley. Not even a sprinkle on the plate. What? Did the chef think that I couldn't taste it?
That's just the thing most people don't get: parsley has a lot of flavor. It tastes like grass, mixed with a minty freshness, and an almost lemony brightness. It tastes like the word verdant would taste. And one day, seemingly overnight, as these things happen, I began to love it. And then, I still couldn't understand why a chef would just sprinkle it on a plate. Relegating parsley to the garnish corner is criminal. It should be an ingredient.
For the next few weeks, I'll be sharing some of my favorite parsley recipes, starting with this light cabbage and parsley slaw. Green cabbage is shredded finely, but still retains its crunch when it's tossed with loads of fresh, grassy parsley, sweet cider vinegar, briny anchovies and capers, biting chives, and a downpour of olive oil. It is bright and light and a health-giving alternative to cole slaw. I love serving it next to charred or blackened fish sandwiches. I just can't get enough.
Excerpted from my weekly column The Secret Ingredient on Serious Eats.
As-Good-As-Cole Slaw Cabbage and Parsley Salad
serves 4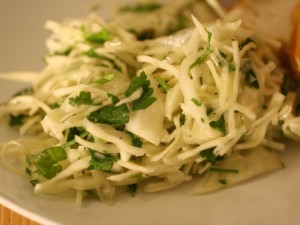 INGREDIENTS
1 1 1/2-pound green cabbage
The leaves from a 1 3/4 ounce-bunch of flat leaf parsley
1 tablespoon crème fraîche or sour cream
1 teaspoon Dijon mustard
1 teaspoon anchovy paste
3 tablespoons olive oil
2 tablespoons cider vinegar
About .15 ounces (exact I know) snipped chives
2 tablespoons finely chopped capers
Salt
Pepper
PROCEDURE
Core the cabbage and slice into 6 wedges.  Feed through the food processor, fitted with the thin slicing disk.  Feed the parsley in after it.
In a large bowl, whisk together the crème fraîche, mustard, anchovy paste, olive oil, vinegar, chives, and capers until combined.  Season liberally with salt and pepper.  Add the shredded cabbage and parsley, and toss to thoroughly combine.  Cover with plastic wrap and refrigerate for 1 hour.  Serve.
print this recipe