Eating dinner at my Moroccan Mémé's house is the highlight of my year.  It used to be the highlight of my week, and my stomach and I both profoundly regret my decision to move so far away from her kitchen.  Moroccan dinners  have this amazing complexity that is somehow rooted in extreme freshness.  The meal starts off with ten salads.  And it ends with a spread of sliced fruits and sweet fresh mint tea.  In the middle there is fish, and then there is meat, often with couscous and vegetables, and chickpeas.  Yes, the fish and meat are intensely flavored, but sandwiched between all those fresh vegetables and fruits, the meal is like a walk through some enchanted exotic garden.
One of the best parts about eating in France is eating Moroccan.
Moroccan food has permeated French culture.  Whether it's using roses and orange flowers in desserts, or buying a baguette stuffed with fiery Merguez sausages and French fries on a street corner, or going out for a fancy couscous dinner, you can get some killer Moroccan food in France.  French food today is not just about coq au vin, it's about all the flavors that come from all the people who live in there.  And North Africans make up a solid portion.
I love my Mémé's tagines, but I also want to put my own stamp on tradition, and make something a bit more tongue-in-cheek, modern, and simple.  This is my lamb meatball tagine, made with tender, big balls of ground lamb, flavored with carrots, shallots, tomatoes, golden raisins, cilantro, mint, and ras-el-hanout–a spice mix made from everything from cumin to cinnamon to dried chilies to rose petals.  It adds that perfect kick of heat, spice, and sweetness that is signature to North African cuisine without requiring you to concoct your own blend ad hoc.  I love to serve this over a bed of couscous tossed with Meyer lemon olive oil, or, if I'm being more French about it, with torn warm hunks of crusty baguette.  It's comforting, but unfamiliar.  Really fun.
Excerpted from my weekly column French in a Flash on Serious Eats.
Moroccan Lamb Meatball Tagine
serves 4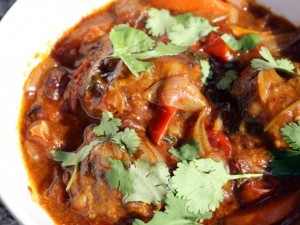 INGREDIENTS
1/2 cup fresh breadcrumbs
1/4 cup milk
1/2 egg (beat and use half)
1 shallot, finely minced, and 4 shallots, sliced
1 tablespoon chiffonade fresh mint, plus 10 leaves, roughly chopped
2 tablespoons chopped fresh cilantro, plus 1/4 cup, roughly chopped
3 teaspoons ras el hanout, divided
1/4 teaspoon piment d'Espelette or cayenne
Sea salt
Freshly cracked black pepper
1 pound ground lamb
2 tablespoons flour
2 tablespoons olive oil, divided
2 cloves garlic, chopped
1 carrot, peeled and thinly sliced on an angle
1 tablespoons tomato paste
1 can cherry tomatoes, drained
1 1/2 cups beef broth
2 tablespoons golden raisins
PROCEDURE
Preheat the oven to 350 degrees F.  In a large bowl, stir together the breadcrumbs and milk until the milk is absorbed into the bread.  Add the egg.  Add 1 shallot, finely minced, 1 tablespoon mint, 2 tablespoons cilantro, 1 1/2 teaspoons ras el hanout, the piment d'Espelette, and season with salt and pepper.  Stir together until combined.  Add the lamb, and gently toss together until evenly mixed.  Divide the mixture into 8 meatballs.  Place the meatballs on a plate with the flour, and dust on all sides.  Reserve the excess flour.
In a sautepan, heat 1 tablespoon olive oil over medium to medium-high heat until the oil ripples.  Add the floured meatballs into the hot oil and brown on all sides.  Set the meatballs aside, and lower the heat.  Add the shallots, season with salt and pepper, and sauté on medium-low for 10 minutes, stirring frequently.  Add the garlic and carrot, and stir in the hot pan until you smell the garlic.  Add the reserved flour, and toss to coat the vegetables in the flour.  Add the tomato paste, the drained cherry tomatoes, the beef broth, the remaining 1 1/2 teaspoons of ras el hanout, and the raisins.  Stir to combine.  Bring the liquid to a boil.
Add the meatballs back into the stew, and top with the remaining mint, cilantro, and olive oil.  Place a lid on the pot, and bake in the oven for 30 minutes.  After half an hour, place the pot over medium heat, and blip away uncovered until the sauce is very thick, 2 to 5 minutes.  Serve with couscous tossed in Meyer lemon olive oil, or just serve with baguette.
print this recipe