These days, living in London just a hop, skip, and a jump from the Channel, I'm milking my family in Normandy for all they're worth.  Just don't tell them I'm only visiting so I can get my hands on their fantastic cidre buché!  It translates to 'corked cider' which doesn't really do much to describe it.  Imagine the Champagne of ciders.  Apples instead of grapes, but just as dry and elegant and bubbly.  Stunning.  Local.  Pressed from all the orchards that fly by the car windows as you drive along.  If Champagne is a beautiful blonde, then cidre buché is a stunning redhead: more elusive, but also more characterful.  Worth looking for.  And you can find it.
I don't think any meal I've ever made has lived up to the name of this column more honestly than this one: it is so French, and so fast.  I take rustic bone-in pork chops and season them with sea salt, cracked pepper, and leaves of fresh thyme.  Sear them off, then deglaze the pan with that dry Normandy apple cider.  It bubbles down into a dry but fruity, delicious sauce, full of the pan juices from the pork, and mellowed with a touch of Normandy cream.  It's my version of pork chops with apple sauce.  And it's the kind of French cooking that I love: the kind you'd fine in front of the fireplace in someone's house, not on the menu of a fancy restaurant.  Rustic, classic, and somehow also so current.  Bon app!
Excerpted from my weekly column French in a Flash on Serious Eats.
Pork Chops with Norman Cider Cream Sauce and Thyme
serves 2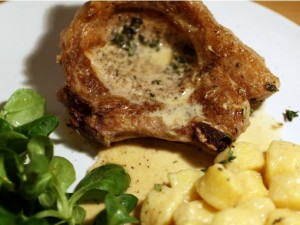 INGREDIENTS
2 1/2-pound bone-in pork chops
Sea salt
Freshly cracked black pepper
1 teaspoon chopped fresh thyme
1 tablespoon olive oil
12 ounces fresh mini gnocchi
2/3 cup dry Breton or Norman cidre buché
1/4 cup cream
PROCEDURE
Take the pork out of the fridge 15 minutes before you want to use it.  Cut off the fatty rind if there is one.  Season the chops all over with salt, pepper, and thyme, pressing the seasoning gently into the meat so it sticks.
Preheat a wide skillet or sauté pan with the olive oil over medium heat.  Bring a pot of salted water to boil for the gnocchi.  Add the pork to the hot skillet and cook 5 minutes on each side, until nicely golden brown.  Add the gnocchi and cook 2 minutes until it floats to the top of the water, and drain.
With the pork still in the pan, add the cider and then the cream.  Cook another 5 minutes until the pork is cooked through and the sauce is reduced.  Toss the gnocchi in the sauce with the pork chops and serve right away with a light green salad.
print this recipe