When cooking for two, and living as two, it's important to keep the fire alive.  In other words, to keep things hot in the kitchen.
As in, taco night.  Of course.
Traditionally, for me, taco night was one of those completely impractical but absolutely unmissable bimonthly family events.  We had all kinds of incarnations: black bean tacos.  Jumbo shrimp tacos.  Spicy turkey tacos.  But they all had one thing in common: seventeen and a half components each, all made from scratch, and forty-two plates to wash afterwards.  The very thing that makes tacos so perfect for a dozen ravenous friends—the million little bowls brimming with different salsas and toppings and guacamoles—is the very same thing that makes it so fun and amazing, and also so completely and ridiculously impractical for two people.
Until now.  Just because I've left my mother's house and am now living à deux doesn't mean my love or need for tacos has diminished.  So I set myself the challenge of developing a taco night that's practical for two.
Here's the plan: buy an inexpensive flank steak and a can of chipotles in adobo.  Whiz up the contents of the can of chipotles in a mini food processor and instantly it creates this spicy, smoky, savory marinade that you pour all over the steak.  Grill the steak on a hot grill pan right on the stove, along with some fresh green onions (such a great taco combo).  Slice up the charred, hot, crusted steak and the green onions, and pile them into warm corn tortillas along with some simple toppings: finely preshredded cabbage (just buy it like that!), torn leaves of cilantro, a spritz of lime, and a quick mash up of sour cream and avocado to cool things down.  It all happens in one pan, but the flavors and textures are as fun and tantalizing and complex as any hi-falutin' family taco night out there.  Maybe even a tad more sophisticated, because after all, I am now officially all grown up.
Here's to keeping the spice in life, and to feeling the heat.
From my weekly column Dinner for Two on Serious Eats.  Check it out every Friday!
Fiery Chipotle Soft Tacos with Charred Scallions, Cilantro, and Avocado Cream
serves 2 (maybe 3)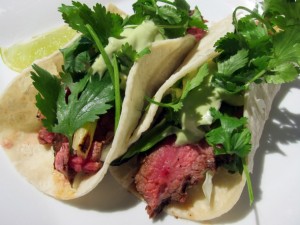 INGREDIENTS
1 7-ounce can of chipotle in adobo
1 1 1/3-pound flank steak
Sea salt
Vegetable or olive oil
1 bunch of scallions, trimmed
1 avocado
1/4 cup sour cream
1 lime, quartered
A handful or two of thinly shredded cabbage (I buy a bag of preshredded cole slaw cabbage)
A big handful of torn cilantro leaves
8 5 1/2-inch corn tortillas
PROCEDURE
In a small food processor, blitz all the contents of the can of chipotle in adobo until smooth.  Season the flank steak with salt, and place it in a large plastic baggie with the chipotle puree.  Rub the marinade all over the steak.  Set aside to marinate for 15 minutes.
Preheat a grill pan over high heat.  Lightly drizzle the grill with oil.  On one side of the grill, place the steak.  On the other side, grill the scallions until soft and charred.  Chop and set aside.  Grill the steak about 8 to 8 1/2 minutes on each side for medium doneness.  Set aside to rest for 10 minutes, then thinly slice.
While the steak rests, blitz together the avocado and sour cream in a small food processor.  Set out the lime, cabbage, and cilantro.  To warm the tortillas, wet a paper towel and wring it out so that it is just damp.  Wrap the stack of tortillas in the damp paper towel and microwave on high for 1 minute.  Wrap in foil to keep warm until you're ready.
Assemble the tacos as you like: a warm tortilla, a handful of cabbage, some steak, scallions, and cilantro, topped with a spoonful of avocado cream and a spritz of lime juice.
print this recipe