Shrimp Scampi. It may have sunk to diner fare, but then again, diners are kind of where you go to eat any kind of food you REALLY want. Nothing beats those jumbo, juicy shrimp, stewed in white wine with garlic and butter. The parsley is that something green that justifies the ostrich-sized nest of linguine beneath the shrimp. So decadent, and messy, and tangled, and happy.
I love this sleek, modern twist on my beloved scampi.
Char up some thick country bread drizzled in olive oil, and rub it with garlic. Then top it with a five-minute, one-pot stew of meaty shrimp, creamy, comforting cannellini beans, even more garlic, white wine, and just a touch of butter for authenticity. I toss in a handful of parsley or arugula or both, then pour it over the charred garlic bread. The sauce soaks into the crusts, and the shrimp and beans together are so hearty and garlicky and good. Eat this with someone you love, and who loves you. (There's a lot of garlic.)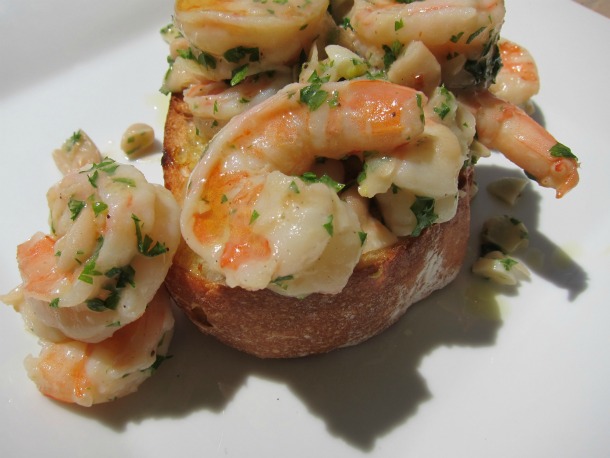 From my weekly column Dinner for Two on Serious Eats.  Check it out every Friday!
Grilled Garlic Bread with White Bean Shrimp Scampi
serves 2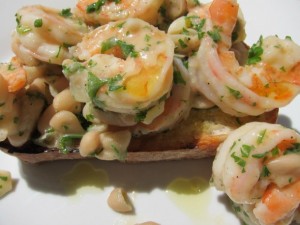 INGREDIENTS
4 extra thick slices of excellent crusty, rustic round bread
2 tablespoons of olive oil plus extra for drizzling
10 cloves garlic, sliced or chopped, plus 1 whole clove
Sea salt
1 pound thawed frozen peeled and deveined large shrimp
A pinch of chili flakes
Freshly cracked black pepper
1/2 cup dry white wine, such as Pinot Grigio
1 15-ounce can of cannellini beans, drained and rinsed
2 tablespoons cold unsalted butter, diced
1/2 cup flat leaf parsley, roughly chopped
PROCEDURE
Heat a grill pan over high heat or the oven to 450 degrees F.  Drizzle the bread lightly with olive oil on both sides, and grill or toast on both sides.  Cut the whole garlic clove in half.  When the bread is toasted, rub the hot bread all over with the cut side of the garlic, and season lightly with salt.
In a large braising pan, head 2 tablespoons of olive oil over medium-high heat.  Add the shrimp, and season with the chili flakes, salt and pepper.  Cook just until the shrimp are pink and curled, turning once.  Set the shrimp aside with a slotted spoon.  Add the garlic to the hot oil, and just heat through until you can smell it—less than 30 seconds.  Add the wine and beans and bring to a boil.  Gently whisk in the cold butter and parsley.  Add the shrimp back in to the sauce, and spoon over the waiting garlic bread.  If you want to be extra gourmet, add in a heaping handful of torn baby arugula.  Bon app!
print this recipe