My stepfather comes from Normandy, which I secretly love for the extremely selfish reason that it means I get to go to a whole different part of France, and eat.  To go where I ordinarily wouldn't, and to eat what I would otherwise dream of eating.  Mussels.
Across the bridge from Le Havre, which was destroyed in World War II and was rather hastily rebuilt, resides an adorable little seaside town called Honfleur.  There, the harbor is lined with little restaurants, cafés, and bistros.  Some worth their salt.  The dish to get is mussels.  In America, we prize the giant black beasts, but in France, you get tiny, sweet, succulent little mussels that I so much prefer.  They come as a meal: a million little mussels in a great enameled iron pot, the lid of which quickly becomes the bowl for your million little shells.  On the side comes the torn baguette and side of crunchy, salty fries.  And at the bottom of your great mussel pot comes the sauce you ordered.  You can, if you're enterprising, try about twenty sauces.  Marinière, made with white wine and onions.  Dijon, made with mustard.  Cream, which is Marinière with sweet, thick Normandy cream stirred in.  Provençal, made with garlic and tomatoes.  Garlic.  Cider.  Beer.  Pistou.  And maybe the most unique, and certainly my favorite: Roquefort.  The Cream sauce with sharp, pungent blue Roquefort cheese melted in.  Gorgeous!
This is the perfect example of how choosing some killer ingredients means you don't have to do any work.  The whole dish takes five minutes to cook, maybe ten with prep.  Sweet shallots start the white wine and thyme broth.  The mussels leech their own briny liquor.  And then, to finish, that sharp, distinct Roquefort blue and the sweet, thick cream that makes Normandy Normandy.  It's perfectly balanced, with attitude.  Eat it like the Normans do, with your fingers, using an empty shell to pluck fresh mussels and plop them into your mouth.  Then break the shell in half, and use one side as a spoon for all that sauce.
All you need is a bottle of that dry, cold hard Norman apple cider, and you're in business.  Or Honfleur.  Whichever you prefer.
Excerpted from my weekly column French in a Flash on Serious Eats.
Mussels with Creamy Roquefort Sauce
serves 4 to start, 2 for dinner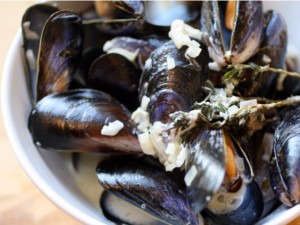 INGREDIENTS
1 tablespoon olive oil
2 shallots, finely diced
1/2 cup dry white wine, such as Sauvignon Blanc
8 stems thyme
1 3/4 oz Roquefort, roughly crumbled
2 pounds mussels, cleaned and debearded
Sea salt
Freshly cracked black pepper
1/3 c heavy cream
PROCEDURE
Heat the olive oil in a wide sauté pan over medium heat.  Add the shallots, and sauté until just soft, about two minutes.  Add the wine and the thyme, and increase the heat to high.  When the wine boils, add the Roquefort and mussels.  Season with salt and pepper.  Cover the pot, and cook over medium-high heat for 4 to 5 minutes, until all the mussels have opened.  Turn off the heat, stir in the cream, and serve.  I like to serve this with grilled country bread and a dry apple or pear cider from northern France—apples and pears and blue cheese.  Nothing goes better together!
print this recipe