If there's one thing I love about French home cookin', it's a gratin.
But, gratins are pretty hard to justify.  Especially with the onset of summer.  Gratins and beaches mix about as well as oil and water.  That is to say, not at all.
So I've recently gone on this 'gratin-lite' kick: baked dishes that have the same kind of bubbling creaminess and comforting crusty top as my favorite, say, potato Dauphinoise, but just a bit lighter.  This particular zucchini version is inspired by a zucchini crumble I had about two summers ago in Avignon at a restaurant called Le Moutardier, because it was built on the site of the old mustard maker back when the pope lived in Avignon.  There's not a lot of mustard there now, but there is a breathtaking zucchini crumble on the menu, made with mint and cheese, that inspired this summer gratin.
It starts with lots of zucchini, tossed in a warm sauce of shallots and garlic, white wine, and a little crème fraîche.  Toss it rustically into a baking dish with tons of fresh herbs: mint, thyme, and parsley.  Top it all off with a half crumble, half gratin topping of breadcrumbs, Gruyère, Parmigiano Reggiano, and a little bit of butter.  Bake it until the lightly creamy wine sauce is bubbling up around the edges, the zucchini is tender, but substantial, and the topping is crispy and well tanned.  I serve it with some boiled baby potatoes tossed with a little olive oil, herbs, and sea salt.
It has that comforting hot sauciness and crispy cheesiness of a standard gratin, but I've swapped potatoes for zucchini and heavy cream for white wine.  Magnifique.
Excerpted from my weekly column French in a Flash on Serious Eats.
Fresh Zucchini Crumble
serves 4 to 6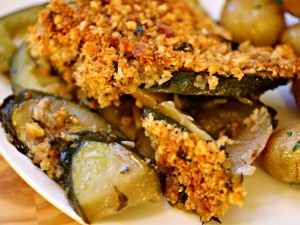 INGREDIENTS
1 tablespoon unsalted butter, room temperature, plus 1 1/2 tablespoons
1 large shallot, finely diced
Sea salt
Freshly cracked black pepper
2 cloves garlic, finely chopped
1/3 cup dry white wine, such as Sauvignon Blanc
1/4 cup crème fraîche
6 medium zucchinis, diagonally sliced 1/2-inch thick
1 tablespoon chopped fresh thyme
1 tablespoon chopped fresh mint
1 tablespoon chopped fresh flat leaf parsley
1 cup fresh breadcrumbs
1/3 cup finely chopped walnuts
1/2 cup grated Gruyère
1/2 cup grated Parmigiano Reggiano
Drizzle of extra virgin olive oil (optional)
PROCEDURE
Preheat the oven to 400 degrees F.  In a medium skillet, melt 1 tablespoon butter over medium-low heat.  Add the shallot, season with salt and pepper, and gently sweat for two minutes.  Add the garlic, and sauté another minute.  Add the wine, bring the mixture up to a boil, and add the crème fraîche.  Melt it all together, and take off the heat.
In a large bowl, add the zucchini and the herbs.  Season with salt and pepper, and add the shallot and wine mixture.  Toss well and place in a lightly greased (I use olive oil) rectangular baking dish.  In another bowl, with your fingers, rub together the crumbs, walnuts, cheese, and remaining 1 1/2 tablespoons butter, until the mixture is crumbly.  Season with salt and pepper, and spread like a crust over the zucchini.  Drizzle lightly with olive oil, if using, and cover the baking dish with foil.  Place the baking dish on a baking sheet, put it all in the oven, and lower the oven to 375 degrees F.
Bake, covered, for 1 hour and 15 minutes.  Then remove the foil, and bake uncovered for 5 to 10 minutes, until the topping is golden brown and crisp.  Let stand for 5 minutes before serving.  Serve with boiled baby new potatoes, tossed with olive oil and sea salt.
print this recipe