There is a hole-in-the-wall restaurant in the southern French town of Aix-en-Provence, a little city famed for its quaint charm, fantastic shopping, "typique" markets brimming with olives and purple asparagus and rustic Provençal almond macarons, and leafy, shaded boulevards.
The restaurant is a pizza joint.  I have no clue what it's called, but we go there every time we're in town.  Just make a left up the hill at the church with the fountain just past the market in the square.  Somehow we always find it.  And even though it's a pizza place, we always order the vegetable lasagna.
There are several reasons it's to die for.  It's served like a tian, baked in its own individual stone dish in a hot pizza oven.  But the best thing is, it's so much lighter than the lasagnas we are used to.  After a few bites into the deceptively Italian, bubbly dish, you realize that it's actually ratatouille sandwiched between layers of pasta, bathing gently in tomato sauce, and blanketed with just one fine layer of cheese gratined like onion soup with mozzarella and Gruyère.  It's simple and light and so of the earth in Provence that you can't help but trek around town trying to find it.
This is my version.  I create ratatouille planks: long slices of eggplant, zucchini, yellow bell peppers, red onion, and whole garlic cloves, that I roast with olive oil, chili flakes, and herbes de Provence until they are just slightly charred.  Then I layer them with sheets of fresh pasta, bought or homemade tomato-basil sauce, sun dried tomatoes, fresh thyme, basil, and mint, and a final layer of fresh mozzarella and shredded parmesan.  Sliced into four big rectangles, the dish really becomes a ratatouille and pasta Napoleon, beautifully stratified with that signature vegetal Provençal flavor.  And the best part is, you don't have to boil the pasta!  Just roast the vegetables, and after that, it's just a simple assembly job that comes out to be a real stunner.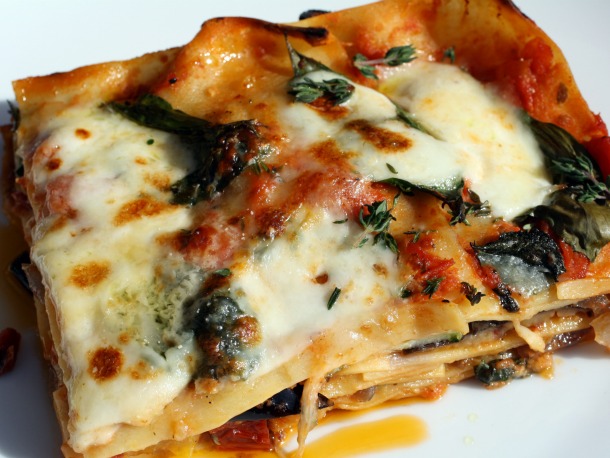 Excerpted from my weekly column French in a Flash on Serious Eats.
Roasted Ratatouille Lasagna Napoleons
serves 4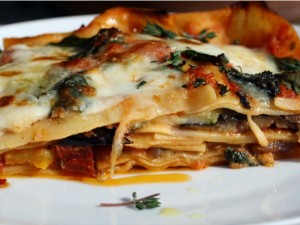 INGREDIENTS
7 tablespoons olive oil, divided
1/2 teaspoon chili flakes
1 teaspoon herbes de Provence
Sea salt
Freshly cracked black pepper
1 medium eggplant, sliced into thin, long planks
1 large zucchini, sliced into thin, long planks
1 yellow bell pepper, sliced into thick strips
1/4 red onion, sliced
12 cloves garlic, in their jackets
1 24-ounce jar of marinara sauce
8 fresh lasagna sheets
6 sundried tomatoes in olive oil, chopped
1/4 cup water
15 leaves of fresh basil
10 leaves of fresh mint
1 teaspoon fresh thyme leaves
5 1/2 ounces fresh mozzarella cheese, thinly sliced
1/3 cup grated Parmesan cheese
PROCEDURE
Preheat the oven to 450 degrees F.  On a wide rimmed baking sheet, mix 6 tablespoons of olive oil with the chili flakes, herbes de Provence, salt, and pepper.  Toss all the vegetables and garlic in the olive oil mixture until well coated.  Arrange the vegetables in a single layer on two baking sheets.  Roast for 10 minutes.  Set aside to cool.  Peel the paper off the garlic and discard.  Lower the oven to 350 degrees F.
Assemble the lasagna in a 10- by 8 1/2-inch rectangular baking dish.  Spread half a cup of marinara sauce on the bottom of the dish.  Arrange one layer of lasagna sheets on the sauce, trimming as necessary so you have a single layer of noodles.  Top with another 1/2 cup of sauce.  Arrange half of the vegetables and garlic cloves in a single layer on the lasagna sheets.  Add another layer of pasta.  Top with another 1/2 cup of sauce.  Top with the chopped sundried tomatoes.  Layer the second and final layer of vegetables and garlic.  Top with the final layer of pasta.  Top with the remaining marinara sauce.  Add the water to the marinara sauce jar, shake up, and pour over the lasagna.  Gently press everything down to ensure that all the pasta is coated in liquid.
Top the lasagna with a layer of fresh herbs.  Then a layer of mozzarella.  Followed by a layer of Parmesan.  Drizzle with the remaining tablespoon of olive oil, and season with salt and pepper.  Wrap the baking dish in foil, and place on a rimmed baking sheet.  Bake for 30 minutes until bubbly.  Take the foil off the lasagna, and turn the oven back up to 450 degrees F.  Bake for another 5 minutes, until the cheese is golden brown and bubbly.
Allow the lasagna to sit for 5 minutes and cool slightly.  Cut into 4 "Napoleons" and serve.
print this recipe