Nothing makes me run for salad like the first sight of springtime sunshine. All I want are bright, light things that still fill me up after a day at the office. I love a classic, but a classic can be so much more fun when you have a little irreverent play with it.
Take the Niçoise salad: torn leaves topped with potatoes, egg, green beans, tomatoes, and canned tuna and anchovies. My favorite restaurant in Paris has a perennial dish on the menu called "Niçoise à Ma Façon," or, "Niçoise Salad, My Way." It's a life-altering tumble of baby gem lettuce, slightly soft French green beans, new potatoes, crumbled purple potato chips, caper berries, anchovies, canned albacore, slivered pickled garlic, fried shallots, and hard boiled egg, tossed in a creamy, soft lemon dressing. A Niçoise salad is the kind of quotidian dish that you eat without consequence at a million other places, but you come back from Paris talking about Niçoise à Ma Façon.
Inspired, I took a shot a trying Niçoise à My Façon. I bag the canned fish for barely seared rare fresh tuna and good white marinated anchovies, dice them up with fresh, crisp haricots verts and baby grape tomatoes and hearty purple or golden potatoes, and then hit it with briny olives and capers, fresh basil, and bright lemon and olive oil. I spoon the mixture into delicate lettuce cups and eat them like tacos. Provençal at its best!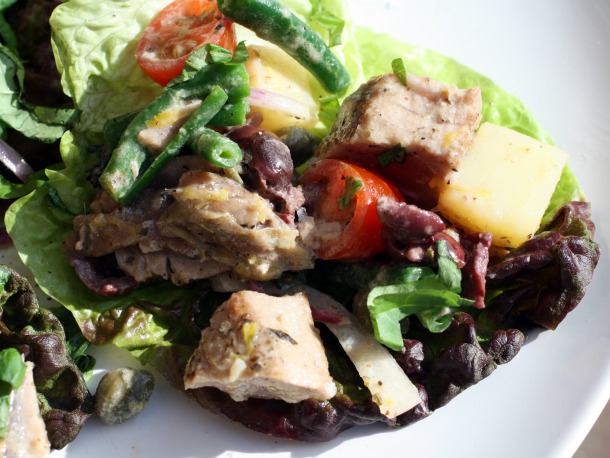 Seared Rare Tuna Niçoise Lettuce Wraps
serves 4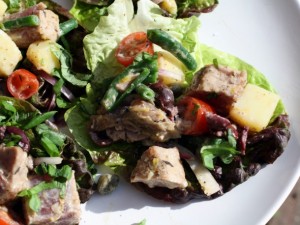 INGREDIENTS
1/2 pound fresh tuna steak
1 1/2 teaspoons olive oil, plus 2 teaspoons, plus 1/4 cup
1 1/4 teaspoons herbes de Provence
Sea salt
Freshly cracked black pepper
1 clove of garlic, halved
Zest and juice of 1 lemon
The leaves from 2 stems of thyme
2 teaspoons French-style mayonnaise
1/4 teaspoon honey
2 medium Yukon Gold potatoes, cooked and cooled, cut into twelve pieces each
6 tablespoons blanched and cooled and chopped haricots verts
1/2 cup halved baby grape tomatoes
3 tablespoons chopped Niçoise olives
3 tablespoons slivered red onion
1 tablespoon capers
6 fillets of anchovies in olive oil (soak in milk for a milder flavor)
8 small leaves of red leaf or romaine lettuce
PROCEDURE
Rub the tuna steak in 1 1/2 teaspoons olive oil.  Season with herbes de Provence, salt, and pepper.  Heat a small nonstick skillet with 2 teaspoons oil over medium-high heat.  Sear the tuna for 45 seconds on each side, and immediately rub the hot fish with the cut side of the garlic.
Whisk together the 1/4 cup olive oil, the zest and juice of the lemon, the thyme, the mayonnaise, and the honey, and season with salt and pepper.  Cube the tuna.  Toss the tuna, the lemon dressing, and all the salad ingredients except the lettuce together to coat.  Arrange the tuna salad in the lettuce cups and serve right away.
print this recipe