I have a serious food crush on seafood with pork.  Here in London, a restaurant called J. Sheekey's Oyster Bar makes squid and wild boar cassoulet.  My heart stops.  It is literally all I live for.
And while I can't exactly make cassoulet any ol' night of the week, much less with wild boar, I can still get that combination of down-home deliciousness and elegance that the combination offers.  Enter, my Crispy Broiled Scallops and Chorizo.
To me, cooking for two means limiting not just my time spent, but also my ingredients.  I don't want to go out and spend a fortune stocking my cupboard with things I'm only going to use once, and in such a small quantity.  And when cooking with just a few ingredients, it's important to make each one count, so that the food is exciting and tempting, not boring.
This dish is the perfect example.  I start with scallops, because scallops are sweet and rich and always feel like a treat.  But, the bay scallops are cheaper than the big fancy scallops, and they cook a lot more quickly.  And Spanish chorizo is bang for your buck.  In it, you get the salty meaty flavor of the ham, that gorgeous burnt red smoky flavor of the paprika, and tons of garlic.  And I only had to buy one thing!  Toss the chorizo and scallops together, and automatically the fat and flavor melts out of the chorizo in the oven and bathes and crisps the scallops.  Gorgeous!  I top the whole thing with panko crumbs for crunch and fresh baby greens for something light.
I serve these in individual baking dishes, and whether I serve it for just me and Mr. English, or I do the unthinkable and have people over during the week, I have this really impressive, kind of fancy, really delicious dinner in fifteen minutes and just a couple of ingredients.  If only all things in life were this easy!
From my weekly column Dinner for Two on Serious Eats.  Check it out every Friday!
Crispy Broiled Scallops and Chorizo
serves 2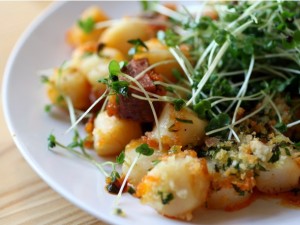 INGREDIENTS
14 ounces of bay scallops
2 ounces of Spanish chorizo, diced to the same size as the scallops
2 teaspoons, plus 1 teaspoon olive oil, plus extra for drizzling
3 tablespoons panko
1 tablespoon chopped flat leaf parsley (optional)
A handful of microgreens, baby arugula, or cress
Sea salt
PROCEDURE
Preheat the broiler.  Pat the scallops dry with a paper towel.  In two gratin, divide up the scallops, diced chorizo, and two teaspoons of olive oil, and toss to combine.  Toss the remaining teaspoon of olive oil with the panko and parsley (if using) in a separate bowl, and then top the two gratin dishes with the crumbs.  Cover each gratin dish tightly with foil.  Place the dishes on a baking sheet and broil for 10 minutes.  Then, remove the foil, and broil an addition 3 to 4 minutes, until the chorizo has blistered and the crumbs are lightly toasted.  Top each dish with a handful of greens lightly tossed with olive oil and sea salt.  Serve right away with warm baguette.
print this recipe