There are three kinds of recipes.  The first are the kind that totally, for lack of a better word, suck.  Fool me once; I never make those again.  The second are the kind that are terrific, but they just feel like a one-off.  An occasion recipe, maybe, for novelty.  And the third are the most rare, and the most wonderful.  The ones that you make, and then make, and then make, and then make again.  For me, this crumbly, mustardly salmon is by far and away the third kind of recipe, so much so that, since my parents are in town, I am making it for them along with my Roasted Ratatouille Lasagna Napoleons from French in a Flash a few weeks ago.
The concept is simple: salmon and mustard go well together.  I simply lightly butter the bottom of two store-bought fresh salmon fillets (my store makes sure they are skinless and boneless), and sit them in a skillet.  While they get crispy on the bottom, I make a kind of savory crumble of breadcrumbs, two mustards, thyme, and butter.  I pile it on top of the salmon while it's still in the pan, and transfer the whole thing to the oven.  The salmon finishes cooking, and the crumbs gets crispy and nutty and tangy and spicy from the mustard.  It's kind of like an easier, lighter, more elegant way of getting crispy fried fish, with a little French flavor and flair.
I serve it on a bed of blanched fine green beans, or next to a salad.  What's next to it is not important.  It's just about the salmon, so buttery, so tender, so good, and perfect, and earthy and wholesome, that I just can't stop making it!  I made it for me and Mr. English, but he was late in getting home, so I took the opportunity to pack it up for lunch the next day, and served him some leftover pasta.  Shh!  I know, it was mean.  But the best food makes me very, very greedy, and very, very selfish.
I'm happy to report it's just as good cold!
From my weekly column Dinner for Two on Serious Eats.  Check it out every Friday!
Easy Crumbly, Mustardly Salmon
serves 2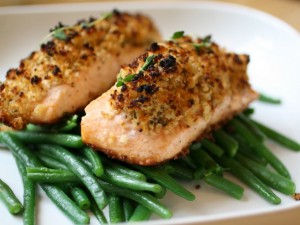 INGREDIENTS
2 fillets of salmon, boneless and skinless
Sea salt
Freshly cracked black pepper
1/2 cup fresh breadcrumbs
1 tablespoon unsalted butter, softened, plus extra for the salmon
1/2 tablespoon Dijon mustard
1 teaspoon whole grain mustard
1 teaspoon fresh thyme leaves
PROCEDURE
Preheat the broiler.  Season the salmon with salt and pepper.  Set aside.
In a medium bowl, mix together the breadcrumbs, 1 tablespoon butter, mustards, and thyme, pinching the mixture together so the butter is incorporated and the mixture sticks together.  Season with salt and pepper.
Spread the bottom of each fillet of salmon with a thin layer of butter.  Place the salmon in a preheated skillet over medium-high heat that is just large enough to fit the fish.  Sear for 2 minutes, to develop a nice crust on the bottom of the salmon.  Pile the crumbs on the salmon, and transfer to the oven, broiling for 4 to 5 minutes, until the breadcrumbs are nicely golden brown.  Serve with haricots verts that have been blanched in salt water, and tossed with a little butter and fresh parsley.
print this recipe