Easy Crumbly, Mustardly Salmon
serves 2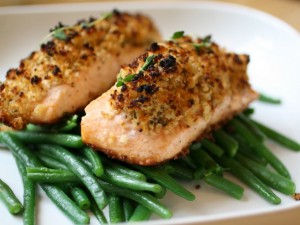 INGREDIENTS
2 fillets of salmon, boneless and skinless
Sea salt
Freshly cracked black pepper
1/2 cup fresh breadcrumbs
1 tablespoon unsalted butter, softened, plus extra for the salmon
1/2 tablespoon Dijon mustard
1 teaspoon whole grain mustard
1 teaspoon fresh thyme leaves
PROCEDURE
Preheat the broiler.  Season the salmon with salt and pepper.  Set aside.
In a medium bowl, mix together the breadcrumbs, 1 tablespoon butter, mustards, and thyme, pinching the mixture together so the butter is incorporated and the mixture sticks together.  Season with salt and pepper.
Spread the bottom of each fillet of salmon with a thin layer of butter.  Place the salmon in a preheated skillet over medium-high heat that is just large enough to fit the fish.  Sear for 2 minutes, to develop a nice crust on the bottom of the salmon.  Pile the crumbs on the salmon, and transfer to the oven, broiling for 4 to 5 minutes, until the breadcrumbs are nicely golden brown.  Serve with haricots verts that have been blanched in salt water, and tossed with a little butter and fresh parsley.