Some people get their kicks running marathons, or knitting, or surfing YouTube for hours a day.  I get mine reinventing classic French recipes.  This one is the fruit of last weekend's experimentation with turning classic, wintry coq au vin into a summertime barbecue hero.
The flavors of classic coq au vin start with red wine.  Soaking the chicken in the wine all night is the French equivalent to a southern buttermilk bath: it tenderizes the meat, while staining it a gorgeous garnet.  Then, the chicken is seared in bacon fat, with mushrooms and pearl onions, and stewed in wine.  It's stewy, with everything falling off the bone, and lots of red wine sauce for mixing into your mashed potatoes.  It's delicious, and completely inappropriate for warm weather.
For this version, I still soak the chicken in wine, but then I create a barbecue sauce from pancetta, dried wild mushrooms, shallots, thyme, and red wine.  I slather the thick, earthy, completely inimitable barbecue sauce all over the chicken, and grill it until its crisp and charred and luscious.
I think I've finally met the star of this Bastille Day's French barbecue cookout.
Excerpted from my weekly column French in a Flash on Serious Eats.
BBQ Coq au Vin
serves 4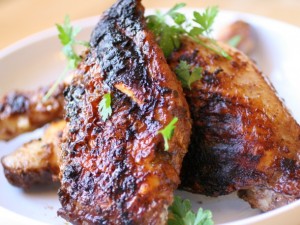 INGREDIENTS
2 bone-in, skin-on whole chicken legs
2 skin-on chicken breasts
2 cups red Burgundy wine
1 3/4 ounces cubed pancetta
1 very large shallot, finely diced
3 cloves of garlic, finely chopped
1/8 ounce dried wild mushrooms
1/4 cup ketchup
1 teaspoon Dijon mustard
3 tablespoons light brown sugar
1 tablespoon white wine vinegar
1 tablespoon fresh thyme
1 bay leaf
Sea salt
Freshly cracked black pepper
PROCEDURE
Place the chicken and wine in a large baggie and refrigerate over night.  Remove the chicken, and pat dry.  Reserve the wine.
In a medium saucepot, render the pancetta over medium heat until just starting to crisp.  Add the shallots and cook for 3 minutes over medium-low heat, adding in the garlic for the last 30 seconds.  Add the reserved wine and porcinis, and bring to a boil.  Add the ketchup, mustard, sugar, vinegar, thyme, and bay leaf, and season with salt and pepper.  Cook over low heat until the mixture is thick and coats a spoon.  Remove the bay leaf, and purée in the blender.
Preheat a cast iron grill pan over medium-high heat.  Season the chicken with salt and pepper, and toss in about 1/3 of the BBQ sauce.  Lightly oil the hot grill and cook the chicken between 30 and 35 minutes, turning once, until the interior temperature registers at 165 degrees F.  You may find that the breasts cook slightly more quickly than the legs.  Serve with extra sauce on the side, and maybe a nice cool potato salad.
print this recipe