I love quirky French regional dishes. Some, like sauce mistral—an almond sauce from Provence—for example, really haven't make much of a splash. And others, like piperade—a pepper stew from the Basque country—have become international sensations (at least, in fashionable brunch spots).
Piperade is a stew made from peppers, onions, and tomatoes that is flavored with a very special, and very au courant, ingredient: piment d'Espelette. It's a kind of exuberant red chili powder from the Basque region of France that is lightly spicy and very earthy. Traditionally, and in a lot of brunch places, as I was saying, the trend is to bake eggs on top of the stew and serve them together.
Well, I'm kind of bored of that, and I'm allergic to eggs. So here's a new way to do piperade (and, incidentally, a new way to do salmon, which is always useful). Stew together the onions, garlic, olive oil, red, yellow, and green peppers, tomatoes, and piment d'Espelette low and slow until everything is soft and tumbling into each other. Then, pulse it to the texture of pico di gallo. Then, you can either broil salmon and spoon the cold piperade over the top, or set the salmon into the piperade and broil them together. The richness of the salmon is cut by the spicy, garden-ness of the piperade, and it's a French dish with a decidedly Spanish accent. It's light and healthy, but it packs that piment d'Espelette punch.
Excerpted from my weekly column French in a Flash on Serious Eats.
Stoplight Piperade with Spicy Broiled Salmon
serves 2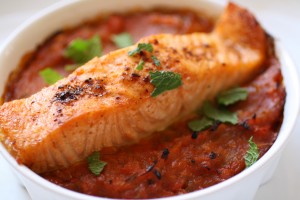 INGREDIENTS
1 tablespoon olive oil, plus 2 teaspoons
1 medium yellow onion, diced
3 cloves garlic, chopped
1 yellow bell pepper, diced
1 red bell pepper, diced
1 green bell pepper, diced
1/2 teaspoon piment d'Espelette, plus a pinch
1 14.5-ounce can of diced tomatoes
Sea salt
Freshly cracked black pepper
2 boneless, skinless salmon fillets
PROCEDURE
To make the piperade, heat 1 tablespoon olive oil in a sautépan over medium-low heat.  When the oil shimmers, add onion.  Sauté until translucent, about 5 minutes.  Add in the garlic, bell peppers, and piment d'Espelette.  Sauté for 1 minute.  Add the tomatoes and their juice, and season well with salt and pepper.  Bring the mixture to a boil, then lower the heat all the way down, cover, and cook slowly for 2 hours, stirring every half hour or so.  Then, take off the lid of the pot, raise the heat, and let it rip until the pan is nearly dry and the tomato broth has evaporated.  Transfer the piperade to a food processor, and pulse 6 times, until you have the consistency of a pico di gallo.
Adjust the oven rack so it is in the second position down from the heat source.  Preheat the broiler.  Transfer the piperade to a baking dish.  Rub the salmon fillets with 2 teaspoons of olive oil, and season with salt, pepper, and piment d'Espelette.  Place the salmon on the piperade, and broil for 10 minutes, until the top is golden brown, and the salmon is cooked through.  Serve with warm bread.
print this recipe