There's a place downstairs from my old apartment in Paris called the Horse's Tavern Café.  It has an inside, but I've never seen it.  For me, it's all about sitting at the tables that tumble forth out of the front door and onto the Carrefour Odéon, and ordering from their 'Croques' menu: a whole list of different melted cheese sandwiches.  I love the one that comes with prosciutto instead of regular Paris ham.  But there's also three cheese.  And a whole array of different hams.  I'm like a kid in a ham candy store.
But the vegetarian options are limited, and because I spent twelve years as a vegetarian, I wanted to create one as amazing as the traditional Croque Monsieur, and all the other croque options at the Horse's Tavern.  This version uses chargrilled, herbes de Provence-scented zucchini, for that same smoky ham taste, and that bite of something other than cheese that adds interest to the sandwich.  I sandwich the zucchini between two piles of Emmenthaler and two slices of rustic white sandwich bread, and toast.  Then, I smother the top of the sandwich a with béchamel punched up with Dijon mustard and a fresh scrape of nutmeg, and another blanket of cheese.  Into the broiler to bubble and blister, and you have a big, fork-and-knife, Horse's Tavern-worthy vegetarian Croque.  Just a little more delicate that the Monsieur, so I call it the Mademoiselle.
Excerpted from my weekly column French in a Flash on Serious Eats.
Chargrilled Zucchini Croque Mademoiselle
makes 1 giant knife-and-fork sandwich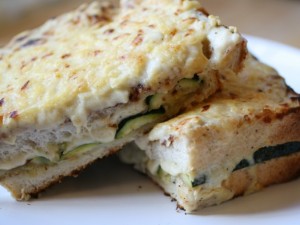 INGREDIENTS
1 medium zucchini, cut into 4 long planks
2 teaspoons olive oil
Sea salt
Freshly cracked black pepper
Pinch of herbes de Provence
1/2 tablespoon unsalted butter, room temperature, plus more for spreading on the bread
1/2 tablespoon all-purpose flour
1/2 cup milk
1/2 tablespoon Dijon mustard
Pinch of freshly grated nutmeg
2 2/3-inch slices of fresh white sandwich bread
3/4 grated Emmenthaler, plus 1/2 cup
PROCEDURE
Preheat a grill pan over high heat.  Toss the zucchini lightly with olive oil, salt, pepper, and herbes de Provence.  Grill 4 minutes on each side, until charred and cooked through.  Set aside.
In a small saucepan, melt the butter.  Whisk in the flour and cook over low heat for 1 minute.  Whisk in the milk, and continue whisking until the mixture has thickened enough to thickly coat a spoon.  Set aside.
Assemble the grilled cheese.  Spread the outside of the bread lightly with butter.  Place some of the 3/4 cup of cheese on the unbuttered side of one slice of bread, top with the zucchini, top with the rest of the 3/4 cup cheese, and finish with the second slice of bread, butter side out.  Toast the sandwich in a nonstick skillet over medium heat until golden brown on both sides.  Preheat the broiler.
Place the sandwich on a parchment-lined rimmed baking sheet.  Spread the top with the béchamel, and top with the additional 1/2 cup cheese.  Broil until the cheese is toasted.  Slice and serve with a green salad.  Share, or multiply at will!
print this recipe