London is a city of dinner parties.  I assure you they can get quite competitive.  And dinner party food in small city apartments is a very specific type of food: gasp-inducing, crowd-pleasing, and, this is a must, very simple to put together.  At the risk of sounding like Emily Post, no one likes a haggard hostess!
I'm a sucker for French-American "fusion", and this is my dinner party wonder, a French take on the all-American artichoke and spinach dip.  Don't let its pre-movie fast-food connotations deter you.  It's excellent, and people love it.
I chop together one pound of frozen spinach and one can of artichoke hearts.  Healthy!  Next comes a slug of white wine, a box of garlic and herbs Boursin cheese, cream cheese, and Gruyère.  Everything bakes together in the oven like a gratin: the wine starts bubbling up, the Gruyère melts into a golden, elastic blanket, the cream cheese makes everything smoothly dippable.  But the secret ingredient is most certainly the Boursin, which in one little box adds creaminess, herbaceousness, and that strong, distinct Boursin garlic flavor.  I toast up little baguette chips to go alongside, although you could use pita chips, or even, like in the all-American chains, get some really good corn chips.  Plunge the chip into the dish of hot, fragrant, green stuff and it will emerge covered in thick creamed spinach, wafting the savory aromas of Boursin.  It is so good!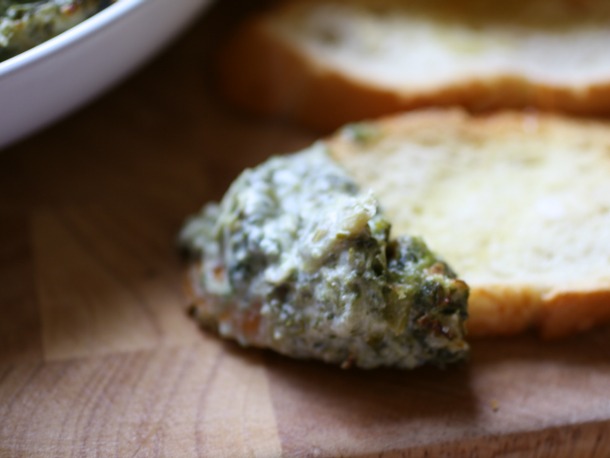 Excerpted from my weekly column French in a Flash on Serious Eats.
Boursin and Gruyère Spinach and Artichoke Gratin Dip
serves 6 to 8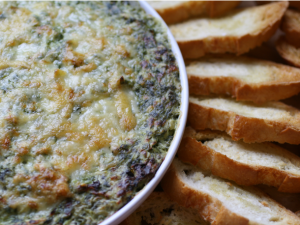 INGREDIENTS
1 pound frozen chopped spinach, thawed with the liquid pressed out
1 14-ounce can artichoke hearts, drained and finely chopped
2 tablespoons dry white wine
5 1/2 ounces garlic and herb Boursin, room temperature
8 ounces cream cheese, room temperature
2 cups coarsely grated Gruyère, divided
Salt and pepper
2 baguettes, thinly sliced
Drizzle of olive oil
PROCEDURE
Arrange the oven rack in the middle position.  Preheat the oven to 400 degrees F.  In a large bowl, stir together the spinach, artichokes, wine, Boursin, cream cheese, and 1 cup of Gruyère.  Season with salt and pepper, and mix until thoroughly combined.  Spread the mixture in a baking or gratin dish large enough to hold everything.  Top with the remaining cup of Gruyère.  Bake for 15 minutes.  Then, turn on the broiler, and broil just until the top is golden brown.
To make the baguette chips (if using), turn the oven down to 350 degrees F.  Arrange the baguette slices in an even layer on a baking sheet (you will need at least two baking sheets).  Drizzle very lightly with olive oil, and toast for 10 to 12 minutes, until crisp and golden around the edges.  Repeat with any remaining baguette slices.
print this recipe