My weeknight repertoire tends toward the healthy. Fish. Beans. Pasta is about as decadent as I usually go. And yet, sometimes, that just isn't enough.
Calamari is like an upmarket version of fish sticks. It's both comforting and slightly elevated. A lot of people get nervous about frying, or about seafood in general, but fried seafood is one of the easiest things you can make, and it cooks in less than two minutes.
Just take some calamari rings, toss them in a Ziploc bag with flour, sesame seeds, and Chinese five spice powder, and quickly fry them up. If you don't own a thermometer to test your oil temperature, don't worry. If it sizzles when you add the calamari, it's hot enough. You know they're done when they look crispy and golden. Then, just squirt with some lime juice and top with fresh herbs, and you've got dinner.
I keep calamari in my freezer and toss it in the fridge to defrost the morning I want to make it for dinner. With ingredients like Chinese five spice powder, you have all the flavor in one jar. Just add a cold beer, and the night is perfect.
From my weekly column Dinner for Two on Serious Eats.  Check it out every Friday!
Five-Spice Fried Calamari with Sesame and Lime
serves 2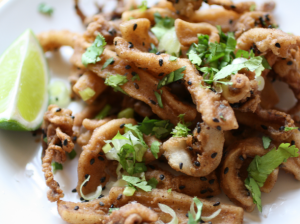 Ingredients
1 pound calamari tubes and tentacles
1 cup unbleached all-purpose flour
2 tablespoons Chinese five spice powder
1/4 cup sesame seeds, black or white
Vegetable oil for frying
Sea salt
1 green onion, thinly sliced (optional)
1 tablespoon finely chopped cilantro (optional)
Lime wedges
PROCEDURE
Prepare the calamari by slicing the tubes into 1/2-inch strips and cutting the tentacles in half down the center.  Rinse and drain.
In a large plastic food storage bag, toss together the flour, Chinese five spice powder, and sesame seeds.  Add the calamari, and season with salt.  Seal and shake the bag until the calamari is coated in the flour mixture.
Fill a cast iron pan about halfway with vegetable oil, and heat until the oil reaches 365 to 370 degrees F.  Shake the excess flour off the calamari and fry, in batches if necessary, for about 2 minutes until golden brown and crisp.  Drain on a paper towel.  Top with sea salt, green onion, cilantro, extra sesame seeds, and lime zest (or any combination of the preceding), and serve with lime wedges.  Done!
print this recipe