Grilled Rare Tuna Salad with Basil-Tapenade Vinaigrette
serves 2 to 4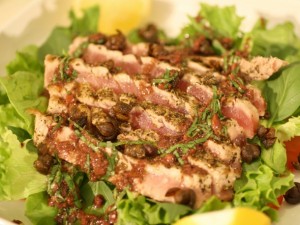 INGREDIENTS
8 ounces fresh tuna steak
Sea salt
Black pepper
1 tablespoons dried herbes de Provence
1 tablespoon olive oil, plus 2 tablespoons, plus more for frying the capers
2 tablespoons capers in brine, rinsed and meticulously dried
2 tablespoons bought black olive tapenade
2 tablespoons white wine vinegar
1/2 to 1 small garlic clove, grated
10 basil leaves, thinly sliced, plus extra for the salad
1 beefsteak tomato, thinly sliced
1 head Bibb lettuce, torn
1/2 lemon, halved
PROCEDURE
Preheat a grill pan over high heat.  Season the tuna liberally with salt, pepper, and herbes de Provence.  Rub 1 tablespoon of olive oil all over the outside of the seasoned fish.  Grill 1 minute on each side, and set aside.
To fry the capers, heat a shy inch of oil in a small saucepot until it shimmers.  Carefully add the capers (they will splatter) and fry until crisp and golden.  Drain on paper towel.  You can also just add the capers as they are, without frying.
To make the vinaigrette, whisk together 2 tablespoons of olive oil, the tapenade, vinegar, garlic, 10 basil leaves, and salt and pepper.
To assemble the salad, arrange the tomatoes on the bottom of a serving dish.  Scatter the lettuce on top, and then some whole basil leaves.  Slice the tuna about 1/2 to 3/4-inch thick, and arrange over the lettuce and basil.  Drizzle the vinaigrette all over, and crown with the capers.  Serve the lemon quarters on the side, and maybe some good warm Poilâne-style bread.
print this recipe