I have one Bastille Day tradition: pétanque!  I love it, not so secretly because it's the only 'sport' in which I can actually perform.  (Embarrassing fact: I was number two on my MBA pétanque team…shh!).  I measure my Bastille Days in pétanque.  One year, it was on the gravel in Madison Square Park in New York.  Another, in the sand on the beach in Florida.  Sometimes, in Place Dauphine at dusk in Paris.  And others, under the trees in the squares in St. Tropez.  And one horrific day with Mr. English in Oxford, when he came from behind and gained 11 points straight to humiliate me.  Today, I'm home in London.  And as usual in this gray city, it's raining.  Yet again.  I woke up, thinking I was going to post all about our English garden pétanque game, and the baked Camembert in filo that I was going to make and bring outside.  Not so much.  But I have to say, the day is shaping up better than I expected.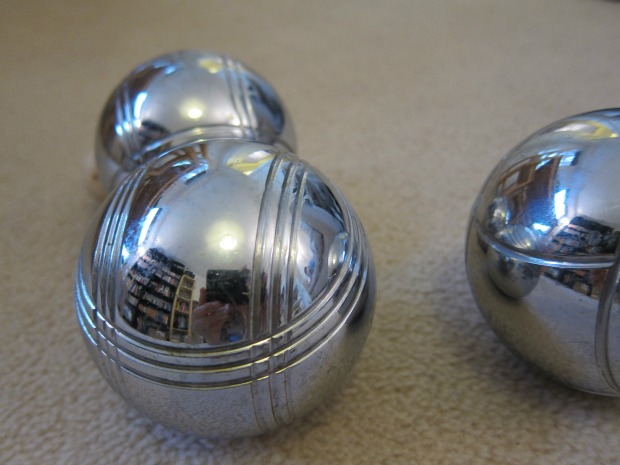 We have taken out the pétanque set, and are playing on the carpet in our apartment.  And instead of hiking up to the supermarket for Camembert and layering filo, I made a cold lunch, similar to the lunches and dinners we have in France in the summers: cheese, ham, cornichons (Maille, squirreled back from Monoprix on the Eurostar a couple of weeks ago like precious cargo), melon, and ripe, ripe tomatoes.  For the first time in at least a season, I haven't changed out of my pajamas at 3 in the afternoon.  I think I've determined the true, maybe even the best, definition of liberté: being utterly, incorrigibly lazy.
No, it's not an explosion of macaron-hued fireworks over the Eiffel Tower.  But as far as my pétanque game is going, and as far as Bastille Days, I think this one is going to work out just fine.
Happy Quatorze!