Even when you're cooking for two, even when it's the middle of the week, even when you don't want a whole fuss for dinner, you can make something that looks really fancy and French that at the same time is about the easiest way to foolproof cooking.
En papillote, also known as, a paper bag.
When you cook en papillote, you put all your ingredients (your side veggies, your fish or chicken, and your sauce ingredients) into a parchment packet (or use that knew paper-lined foil to make it even easier), and bake it.  The veggies soften.  The fish or chicken steams and is tender and juicy.  And any garlic or wine or butter you put in the packets stews together into its own little sauce.  Then you just serve this elegant packet for dinner, cut into it, eat, and throw it out and you haven't even dirtied a pot.
It's genius.
This version is light and fresh and punchy.  I cut up some zucchini and put them at the bottom of my packet.  Then, a nice piece of thick, white cod.  Over that, I put garlic, chilies, mint, basil, and cherry tomatoes, followed by some olive oil, butter, and white wine to make the sauce (make sure to make the most of that white and have a glass while you cook!).  Then I fold it all together, and bake it in the oven for 12 minutes.  You have light, flaky fish, tender-crisp zucchini, roasted tomatoes, and this really bright, slightly spicy sauce.  It's great.  But you could take this recipe and do whatever you want with it.  No cod?  Use any boneless, skinless fish you like.  If you don't want to bother with fresh herbs or chilies, you could leave them out.  You could add asparagus or sugar snaps instead of zucchini.  The world is your oyster.
The point is, it looks great, it tastes fantastic, there's no way to mess it up, and you don't have to wash a single pot.  I love paper bags.
From my weekly column Dinner for Two on Serious Eats.  Check it out every Friday!
Fresh Cod in a Paper Bag with Zucchini, Tomatoes, and Mint
serves 2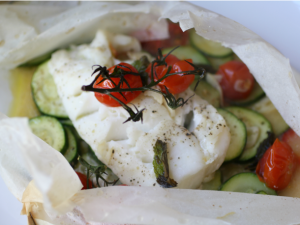 INGREDIENTS
2 small to medium zucchini, thinly sliced
2 6-ounce boneless, skinless cod fillets
Sea salt
Freshly cracked black pepper
1/2 small red chili, thinly sliced, or a pinch of dried chili flakes
1 clove of garlic, chopped
8 leaves of fresh basil
12 leaves of fresh mint
16 cherry tomatoes
2 tablespoons olive oil
2 tablespoons unsalted butter
2 tablespoons dry white wine
PROCEDURE
Preheat the oven to 450 degrees F.  Assemble the packets.  Using either two large rectangles of parchment or parchment-lined foil (parchment on the inside), divide the zucchini between the two and spread out the zucchini discs on one half of the parchment, leaving a one-inch border.  On top of each bed of zucchini, place the cod, and season everything with salt and pepper.  Then top with half the chili, garlic, basil, mint, and tomatoes.  Over each packet, spoon 1 tablespoon each of olive oil, butter, and wine.  Then, seal the pack by folding up the edges (I find a strategically placed staple really helps the parchment packets stay sealed).  For traditional papillote folding technique, read this: http://www.seriouseats.com/2010/03/how-to-cook-food-en-papillote-packages-vegetables-meat-fish.html.  Place the sealed packets on a baking sheet, and cook for 12 minutes.  Then cut into the packets, and eat!
print this recipe