There are drinks you make in glasses, and drinks you make in pitchers.  The drinks in the pitchers are the party drinks.  This Saturday is Bastille Day, and it is a day for parties.  Of course, being American, it's a cheeky holiday.  Not one that is always observed, so the stolen Bastille Days that are accidentally celebrated are that much more fabulous.  The can-can dancing on the bar at Florent in the Meatpacking District before it closed.  The explosions of pastel fireworks by the Eiffel Tower from the Pont des Arts in Paris.  Or a lazy, boozy pétanque picnic with Mr. English.  July 14th.  It's a day that deserves a pitcher of something bubbly, delicious, and ever so slightly intoxicating—just like France.
On Saturday, I am making a pitcher of my proprietary concoction: Kir Royale Sangria, along with a roasted garlic Camembert en croûte for another pétanque picnic.  The Kir Royale Sangria, of course, takes it inspiration from the Kir Royale, a glass of champagne stained with a shot of crème de cassis.  In this version, I stir together a bottle of rosé champagne, a spoonful of sugar, a hefty glug of crème de cassis, and a glass of sparkling water.  The finishing touch is frozen berries.  In Europe, if you buy mixed frozen berries, you'll get strawberries, blackberries, and red and black currants, which pair perfectly with the cassis.  But American mixed berries will work perfectly well to.  They add sweetness, body, and double as ice cubes.  The sangria is fresh, bubbly, sweet and dry at once, and full of life.  Chin-chin.  To a wonderful fête.  Vive la France!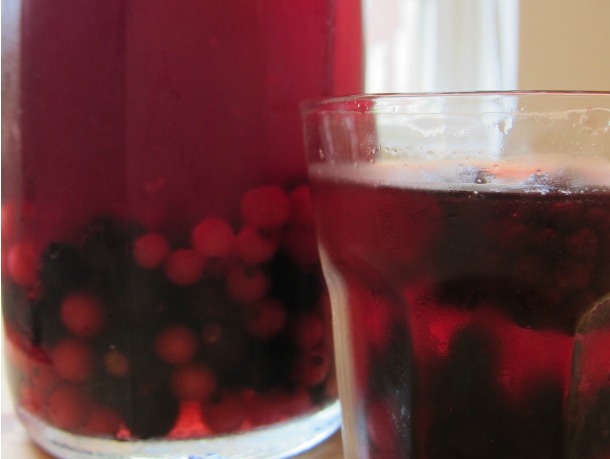 Excerpted from my weekly column French in a Flash on Serious Eats.
Kir Royale Sangria
serves 4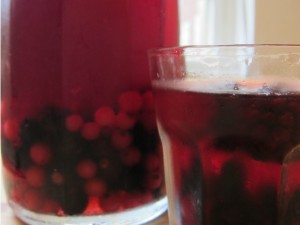 INGREDIENTS
1 75-cL bottle of rosé Champagne, ice cold
¾ cup crème de Cassis
1 tablespoon of sugar
1 cup sparkling water
2 cups frozen mixed berries, straight from the freezer
PROCEDURE
Stir everything together in a big pitcher and pour away.
print this recipe