I had this dish in Paris last summer, and I had to knock it off.  The French are really into seafood tartares.  I just had a salmon version last weekend.  But they are generally the same: a bit of shallot, some dill, maybe some parsley.  A squirt of lemon.
And then I had this one, almost Provençal in its flavors.  Sweet basil.  Bright tomatoes.  And fresh tuna.  Tossed in olive oil and sea salt.  So good!  And it couldn't be easier.  Just blitz together the basil, tomato, shallot, and tuna, then season with salt, olive oil, and a splash of wine vinegar.  I serve it with toasted baguette rounds.  So simple, and light, and honest, and good.
Paris, je t'aime!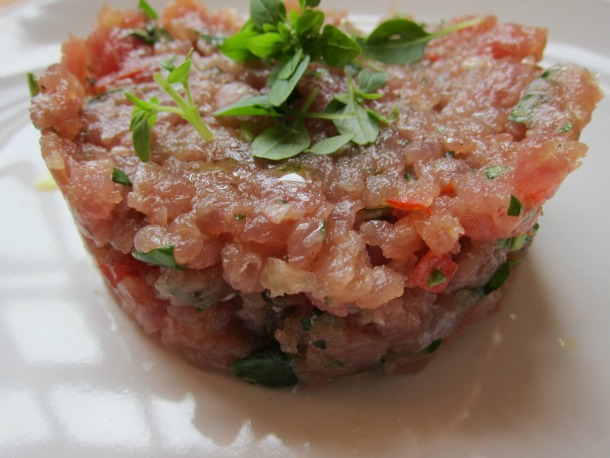 Excerpted from my weekly column French in a Flash on Serious Eats.
Tuna, Tomato, and Basil Tartare
serves 2 to 4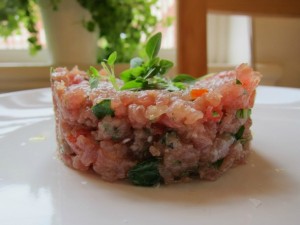 INGREDIENTS
10½ ounces sushi grade fresh tuna
1 vine-ripened tomato, seeds discarded
¼ shallot
15 fresh basil leaves
Coarse sea salt, such as Maldon
Freshly cracked black pepper
1½ tablespoons olive oil
1 teaspoon white wine vinegar, plus more taste
1 baguette, sliced into thin rounds or really good tortilla chips
PROCEDURE
Dice the tuna, tomato, shallot, and basil leaves.  Add all four ingredients to the food processor along with salt and pepper to taste, and pulse 10 times.  Scrape down the sides with a silicone spatula, and pulse 10 times again.  Spoon into a bowl.  Add the olive oil and vinegar, and toss to thoroughly combine.
To make baguette toasts, arrange the baguette rounds in a single layer on a baking sheet, drizzle with a touch of olive oil, sprinkle with salt, and bake at 375°F for approximately 10 minutes or until crisp and golden.  Alternatively, just serve with tortilla chips.
NOTE
Adding vinegar will cause the tuna to cook and turn white.  If you want to make this ahead of time, prepare everything as per the recipe.  Just omit the vinegar, cover in plastic wrap, and refrigerate until ready to serve.  Stir in the vinegar at just the last minute.
print this recipe