I was in a meeting the other day at the office, when my friend pulled out a take-out box from the office cafeteria, and excused herself.  "I'm starving," she said.  "I just need to have some lunch!"
There are some meals at my office cafeteria that I look forward to (veggie dumplings and pickled vegetables is worth scheduling meetings around), but generally, I'm pretty jaded.  Or I was.  Until Issy opened up the paper box to reveal a gorgeous spread: seared tuna steak, new potatoes, green beans, and a lemon wedge.  The perfect summer meal.  Evocative of French seasides with striped umbrellas and big sailboats.  Suddenly, my panini from around the corner began to pale into oozy, woozy insignificance.  I had such overwhelming food envy, that I went home, bought all the ingredients, and recreated it for dinner.
This dish is inspired by a Niçoise salad; but it gets rid of all the salad parts and leaves the essentials.  Fresh tuna, crusted in sea salt and herbes de Provence, seared for just three minutes in olive oil until barely cooked through.  Tender crisp haricots verts.  Creamy baby new potatoes.  Roasted cherry tomatoes on the vine.  All tossed in a garlic- and lemon-infused warm olive oil and butter sauce, littered with shreds of fresh basil and torn parsley.  Served warm, it's light and bright, but also so flavorful and a little bit decadent from the sauce.  It's the perfect summer meal.  A real feast, but light enough so that you don't fall asleep in the afternoon at the office.  You may, however, daydream about places you'd rather be.  St. Tropez.  Cannes.  Antibes.  St. Jean Cap Ferrat.  Some things can't be helped.
Excerpted from my weekly column French in a Flash on Serious Eats.  Bon app!
Seared Tuna with Niçoise Vegetables and Garlic Butter
serves 2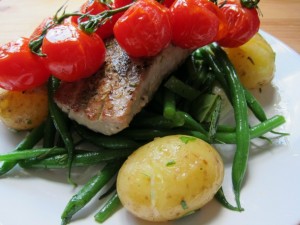 INGREDIENTS
1/4 pound cherry tomatoes on the vine
3 tablespoons olive oil, plus 2 teaspoons and a drizzle
Salt and pepper
1/2 pound baby new potatoes
2 cloves garlic, smashed and peeled
The zest of half a lemon, in strips (made by a vegetable peeler)
1/4 pound haricots verts, trimmed
1 tablespoon unsalted butter, room temperature
12 fresh basil leaves, sliced
1 tablespoon chopped flat leaf parsley
2 5-ounce fillets of fresh tuna
1 teaspoon dried herbes de Provence
PROCEDURE
Arrange the oven rack in the second position down from the heat source.  Preheat the broiler.  Drizzle the tomatoes lightly with olive oil, and place on a parchment-lined rimmed baking sheet.  Broil for 8 minutes, or until just bursting.  Season with a pinch of salt and set aside.
Put the potatoes in a stockpot and cover by at least 1 inch with water and a pinch of salt.  Bring to a boil.
While the potatoes are coming to a boil, place 3 tablespoons of olive oil, the garlic, and lemon zest in a small saucepot over medium low heat.  When the oil forms bubbles around the lemon zest, you'll know it's hot.  Shut off the heat, and let the garlic and lemon infuse the oil while the rest of the dish is cooking.
Once the potatoes have come to a boil, drop the haricots verts in the same pot.  Cook the haricots verts for 3 minutes, until tender crisp, and cool in some cold water.  Continue cooking the potatoes until fork tender (for me, this is 20 to 25 minutes from when I put them on the stove).  Drain the potatoes, and cool similarly to the haricots verts.
Add the butter to the infused oil, stir to combine, and discard the garlic cloves and lemon zest.  Toss the haricots verts and potatoes with the garlic oil-butter, the basil, and the parsley.  Season with salt and pepper.  Set aside.
In a small nonstick skillet, heat 2 teaspoons of olive oil.  Season the tuna with herbes de Provence, salt, and pepper on both sides.  Sear for 1 1/2 to 2 minutes on each side for medium to medium-well.  Plate the potatoes and haricots verts, place the tuna on top, and pile the roasted cherry tomatoes on top of that.  Serve with a lemon wedge if you like.
print this recipe