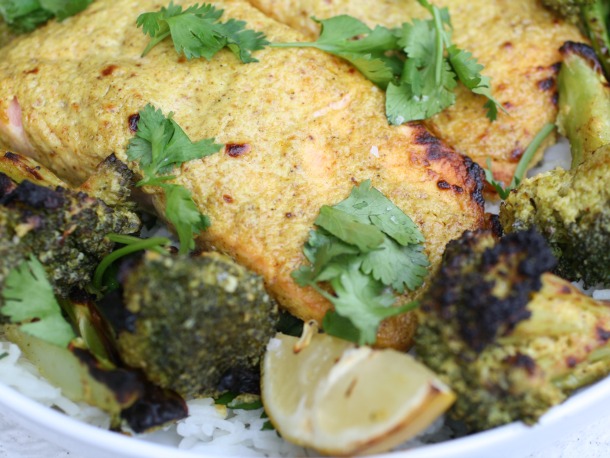 I feel like this is a very Rachael Ray, 30 Minute Meals concept, but I love making takeout food at home.  Thai.  Chinese.  Indian.  But if I'm making it at home, I don't want it to just be as fast as takeout.  I want it to be just as easy.  That means not a lot of ingredients, and not a lot of standing over a hot wok making things happen.
Here in London, takeout means Indian, and there's nothing on the menu I love more than Tandoori fish.  Marinated in yogurt and spices, seared in a clay pot, it's heady with spices, light, and just different from anything else.  Problem is, it's also the most expensive thing on the menu.
Recreating it at home is astonishingly easy—and cheap.  I make a ridiculously simple marinade of plain yogurt, Garam Masala, and fresh ginger, garlic, and chili.  I don't even chop anything; I just use a grater.  Garam Masala is one of those spice blends I keep on hand, along with Ras el Hanout and Five Spice.  At the risk of sounding uncouth, I buy a bottle of one of these iconic international spice blends, and in one simple purchase, I can make anything taste Indian, or Moroccan, or Chinese, without having to buy a whole shelf's worth of spices and measuring out little quarter teaspoons every time I want to make this tandoori salmon.  I put two salmon fillets in the marinade, along with a whole bunch of asparagus.  It all marinates in the fridge for just 15 minutes, and then I sear them both simultaneously on a hot grill pan.  If you don't have a grill pan, try them under a hot broiler.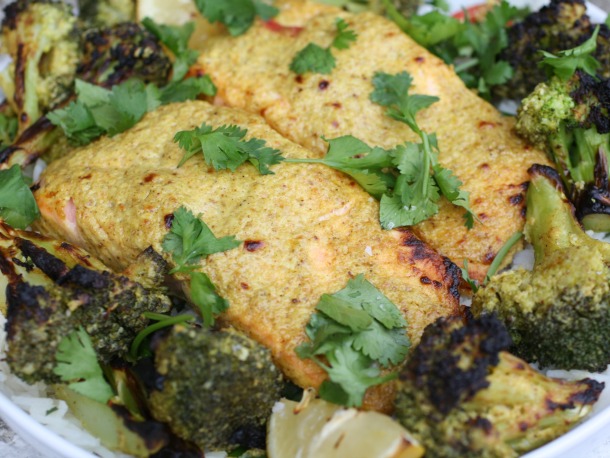 While the salmon is cooking, I make basmati rice.  To recreate the take out ease, I use, unapologetically I might add, boil-in-a-bag basmati, because it comes out fluffy and is perfectly portioned for two.  Then, I tear some cilantro over the top of the fish if I want to get fancy, and may even throw a half lemon on the grill to squirt over the top.  This meal is different enough to be exciting, and easy and cheap enough to prevent dialing up the greasy spoon around the corner.  Mr. English loved and so did I, so it's working couple approved.  I will definitely be making it again.  Bon app!
From my weekly column Dinner for Two on Serious Eats.  Check it out every Friday!
Tandoori Charred Salmon and Vegetables
serves 2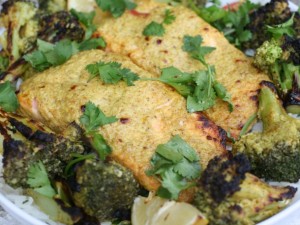 Ingredients
3/4 cup plain yogurt
1 tablespoon freshly grated ginger
2 medium cloves garlic, grated (about 2 teaspoons)
1/2 small hot chili, sliced (optional)
2 teaspoons Garam Masala
1 tablespoon vegetable oil, plus more for the grill if grilling
Sea salt
2 skinless salmon fillets, about 6 ounces each
1 bunch asparagus, trimmed, or one head of broccoli, cut into spears and blanched for 2 minutes in salted boiling water
Cilantro or parsley, torn (optional)
Lemon wedges (optional)
Procedure
In a bowl, stir together the yogurt, ginger, garlic, chili, Garam Masala, 1 tablespoon vegetable oil, and salt to taste. Pat the salmon dry with a paper towel, and coat it with the yogurt mixture. Toss the asparagus or blanched broccoli in the same bowl to coat with the yogurt as well. Cover with plastic wrap and marinate in the fridge for 15 minutes. Meanwhile, preheat a grill pan or grill over high heat, or preheat your broiler.
If grilling, lightly grease the grill with some vegetable oil. Wipe off excess marinade, then add salmon and vegetables and lemon quarters to grill. Grill salmon until well charred on both sides and medium in the center, 3 to 4 minutes on each side, removing asparagus or broccoli and lemon as it becomes tender (about 5 minutes total for the vegetables). Sprinkle with torn cilantro and serve with lemon wedges on a bed of rice.
If using the broiler, line a baking sheet with parchment. Arrange the salmon (no need to wipe off the extra marinade) and vegetables and lemon quarters in a single layer on the baking sheet, spread out as much as possible. Place under the broiler for 10 to 12 minutes for medium to well-done salmon. Arrange on a bed of rice and top with torn cilantro.
NOTETo blanch the broccoli, bring a big pot of water to a boil and season with salt.  Add the broccoli, making sure it's completely submerged.  Cook for two minutes, then remove the broccoli from the hot water.  I then use this same boiling water to cook my bag of basmati rice!  You do NOT need to blanch the asparagus.
print this recipe