The summer is tricky.  You're for something substantial, but you want it to feel light.  Veal Milanese is the perfect dinner.  It's fast.  It's hearty.  It's light.  And it strikes the perfect balance between indulgent and virtuous.  Fried meat, topped with a  salad.  Something for everyone.
Start off with two pieces of veal scaloppini.  You can either ask the butcher in the supermarket to pound it out for you, or, you can picture the face of your arch nemesis (not that you have one) on the meat and do it yourself with a meat mallet or a heavy pot.  Then, do a flash dip of the meat into a beaten egg, and then into a mixture of breadcrumbs and grated Parmesan cheese.  Quickly fry in a sautépan (no need to deep fry and this only takes three minutes), and top with a salad of arugula, tomatoes, and more shaved Parm.  A squirt of lemon, and dinner is served.  It's so good—sort of like Little Italy, light.
Of course, if you don't want to use veal, you can definitely substitute.  I prefer pork or turkey, but you could also use chicken.
From my weekly column Dinner for Two on Serious Eats.  Check it out every Friday!
Veal Milanese with Arugula Salad
serves 2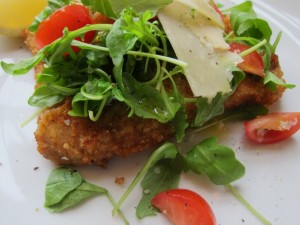 INGREDIENTS
2 6-ounce pieces of veal scallopini
1 egg
½ cup grated Parmigiano Reggiano, plus a little extra for shaving over the top
1 cup breadcrumbs
Salt and pepper
Olive or vegetable oil for frying, plus an extra drizzle of olive oil for the salad
2 big handfuls of baby arugula
6 cherry tomatoes, cut into sixths
Some fresh basil leaves, if you have them on hand
½ lemon, cut in half
PROCEDURE
Pound your veal scallopini out to ¼ inch in thickness, or ask your butcher to do it for you.
In a wide bowl, whisk together the egg and 2 tablespoons of water.  In a wide baking dish, stir together the grated Parm, breadcrumbs, and salt and pepper.
In a nonstick sautépan, heat about ¾ inch of oil over medium-high heat.  Dip the veal first in the egg mixture, and then into the breadcrumbs mixture, pressing the breading into the meat.  Fry the veal 1½ minutes on each side, one piece of veal at a time.  Drain on a paper towel.
Put each piece of veal Milanese on its own plate, and top with a handful of arugula, a few tomatoes, a shaving or two of Parm, and a drizzle of olive oil.  Serve with a lemon wedge.  That's it!
print this recipe