This is the perfect easy, interesting dinner.  And, might I add from yesterday's experience, also a terrific cold packed lunch.
The concept is simple: no-fuss baked salmon crusted in hot blackening spice perched on a pile of cool coconut couscous splintered with fresh herbs.  It's New Orleans meets Miami in fifteen minutes.  The salmon is spicy, salty, savory—and meaty.  The couscous is fluffy and fresh, packed full of mint, parsley, green onions, and pumpkin seeds.  Each bite packs a contrasting punch of fire and ice, and it's so good.
Couscous should always be on-hand for ten-minute wonder dinners.  It's the easiest starch to cook: just pour boiling water over it and let it stand off the heat until it's perfect, every time.  But here's the trick to this special version: cook the couscous in a can of coconut milk instead of water.  The couscous sucks up all the coconutty goodness, and the natural oils in the coconut keeps the grains of couscous separate.  With just one simple swap, you've imparted so much flavor and moisture to a side that can tend to be a little dry and neglected—and most people haven't had couscous cooked in coconut milk before, so that's an added perk.
I love this meal because it's so healthy, so interesting, and so, so easy.  It's ready in 15 minutes, in just one pot (okay, and one baking sheet, but I line it with parchment for easy cleanup).  I'd make extras because the leftovers are killer cold over spinach salad.
From my weekly column Dinner for Two on Serious Eats.  Check it out every Friday!
Blackened Salmon with Crunchy Coconut Couscous
serves 2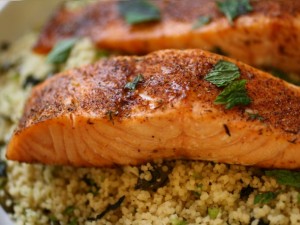 INGREDIENTS
1 1/2 cups coconut milk (1 can)
1 1/2 cups couscous (regular or whole wheat)
Salt and pepper
1/4 cup chopped fresh scallion (about 1 big scallion)
3 tablespoons chopped fresh flat leaf parsley
3 tablespoons chopped fresh mint
5 tablespoons toasted pumpkin seeds
2 4- to 6-ounce fillets of boneless and skinless salmon
1 tablespoon blackening seasoning (recommended: Blackened Redfish Magic)
Lemon or lime wedges (optional)
PROCEDURE
Preheat the oven to 400 degrees F.  Bring the coconut milk to a boil in a medium stockpot.  Add the couscous and season with salt and pepper.  Cover the pot, remove from the heat, and let stand 10 minutes.  Finally, stir in the scallion, parsley, mint, and pumpkin seeds.
Meanwhile, while the couscous is steaming, season both sides of the salmon with blackening seasoning.  Place the fish on a parchment lined baking sheet, and roast for 10 to 12 minutes, until opaque.  Make a bed of the couscous, place the fish on top, tear up some extra mint leaves for garnish, and serve with lemon wedges (optional).
print this recipe