I love little tricks of the trade that make me feel like I've got something for nothing.  This dish cooks in 10 minutes, and looks like I've gone to a really high falutin' Italian restaurant.  Why?  Because I bought fresh lasagna sheets at the store and "made" my pasta myself by cutting it by hand.  The pasta looks rustic and grandma-worthy, when all I had to do was boil it for five minutes, and stir it together with the world's simplest sauce: ricotta cheese, and some of the water from the pasta pot.  Garnished with bright peas, fresh anise-y, sweet basil, and bursting cherry tomatoes, it's the perfect really last minute, need-to-eat gourmet dinner for two.  Just creamy enough to be comforting, but light from all those fresh summer flavors.  This one does you proud—in one pot and ten minutes.
From my weekly column Dinner for Two on Serious Eats.  Check it out every Friday!
Handcut Pasta with Ricotta and Peas
serves 2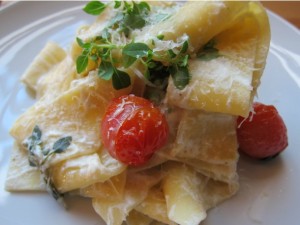 INGREDIENTS
8 cherry tomatoes
3 tablespoons olive oil, divided
Salt and pepper
10 1/2 ounces fresh lasagna sheets
1/2 cup frozen peas
3/4 cup ricotta cheese
1/4 cup loosely packed basil leaves
Parmesan or Pecorino for grating
PROCEDURE
Preheat the broiler.  Place the tomatoes on a parchment-lined rimmed baking sheet and toss with 1 tablespoon of olive oil.  Season with salt.  Broil for 5 minutes.  Set aside.
Cut the lasagna sheets into thick "noodle" strips.  Cook in boiling salted water until al dente—about five minutes.  Add the frozen peas 1 minute before the end of cooking.  Reserve 1 cup of pasta water, then drain.
Add the ricotta, basil, and 1/2 cup of pasta water to the pot.  Stir to combine.  Add in the drained pasta and peas, and the roasted tomatoes and any juice they have rendered.  Season with salt and pepper.  Loosen with more pasta water if necessary.  Serve, and top with grated Parmesan or Pecorino.  A green salad goes perfectly alongside.
print this recipe