I have spent the last four years on Serious Eats proving that cooking French food can be really easy.  And to prove it, all I had to do was write this recipe.
This is a real weeknight wonder.  I do my own little version of papillote parceling: not as beautiful as the all-parchment pleated version, but far more efficient.  I tear off a big sheet of foil and line it with a slightly smaller sheet of parchment.  Then, I have the ease of folding and sealing foil with the non-reactive contact of parchment on the food.  I build a pile of asparagus, followed by salmon, and a quick cold sauce of crème fraîche, Dijon mustard, grain mustard, and white wine.  Then, I wrap the whole thing up in the foil packets, and run them into the oven for about 12 minutes.  It's like making your own fresh version of a frozen dinner: everything you need, your veggies, your fish, your sauce, is already in that packet, and you eat it right out of the parchment.  No muss, no fuss!
When the packets are in the oven, the trapped steam wilts the asparagus, poaches the salmon, and melts the creamy mustard sauce into rivulets that permeate the fish and the vegetables.  I eat it with warm crusty bread to soak up some of the steaming sauce.  C'est si bon!
Excerpted from my weekly column French in a Flash on Serious Eats.  Bon app!
Mustardy Salmon in a Packet with Asparagus
serves 4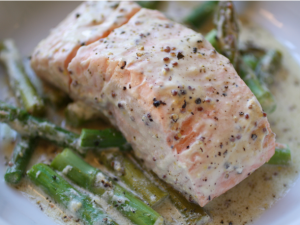 Ingredients
4 tablespoons crème fraîche
4 tablespoons dry white wine
2 tablespoons Dijon mustard
2 tablespoons whole grain mustard
2 bunches (32 stems) asparagus, trimmed and cut in thirds
Kosher salt and freshly ground black pepper
4 boneless skinless salmon filets (about 6 ounces each)
Procedure
Preheat the oven to 400°F. Whisk together the crème fraîche, wine, and mustards. Set aside.
Tear off four large rectangles of aluminum foil, and four slightly smaller rectangles of parchment. Place the parchment on top of the foil. On each sheet of parchment, place a quarter of the asparagus and season with salt and pepper. On top of each pile of asparagus, place one piece of salmon, and season the fish with salt and pepper. Divide the mustard sauce among the four pieces of salmon, pouring it over the top. Finally, fold the packets of foil so they are sealed up tight with the parchment and fish within. Bake packets on a large rimmed baking sheet in a single layer until fish is cooked through, about 12 minutes. Open packets and serve.
print this recipe