The one thing (among several others) that's great about planning a wedding in Paris is getting to go there because you "have" to.
We "had" to go down a few weeks ago to administrate our wedding planning, and as such, we "had" to eat.  To keep our energy up, you know.  There's this great thing about Paris restaurants: copycatting.  I think it comes down to the French insistence on seasonality, but if you see a special in one restaurant, you'll see it in every restaurant.  A few years ago, in May, there was tomato tartare with fresh anchovies and white asparagus vinaigrette on every menu.  It was remarkable.  And this time, the plat du jour partout was lamb brochettes with thyme and haricots verts.  Skewers of tender medium-rare seared lamb in a thyme and lamb jus with simple steamed French green beans.  The perfect union of light, lean substance and fresh, bright flavors.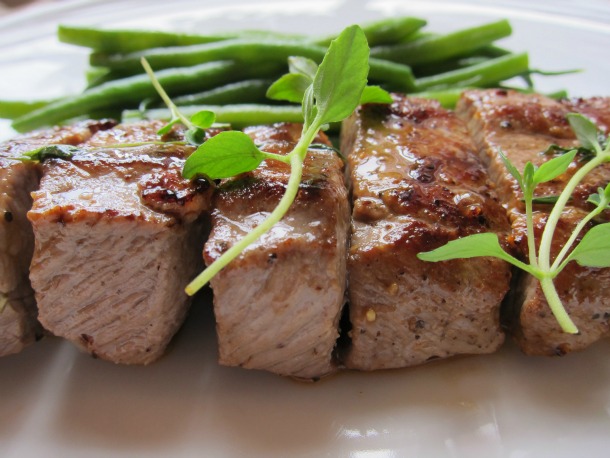 I don't do knock-offs in most things, but when it comes to French food, well, I've made it my raison d'être.  I bought simple lamb loin at the supermarket, cut it into disks, and skewered it.  I seared it simply in very hot olive oil until it had a crust on the outside and a blush on the inside.  I deglazed the pan with some beef stock, and swirled in fresh thyme and a lump of cold butter for the perfect cross between a jus and a gravy.  And alongside: simple French green beans, which never fail to be just the right accessory.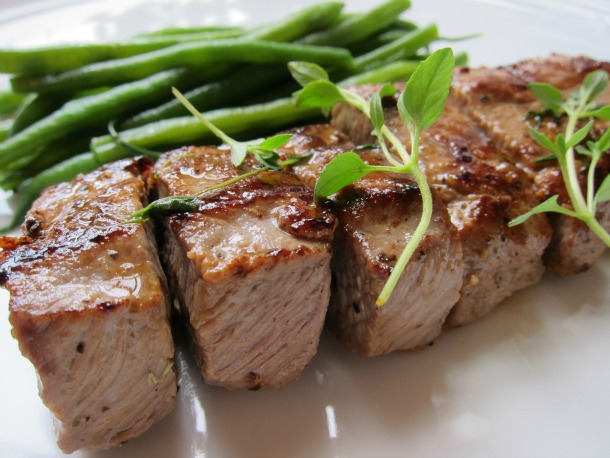 Excerpted from my weekly column French in a Flash on Serious Eats.  Bon app!
Tender Lamb Brochettes with Thyme and Haricots Verts
serves 2 to 3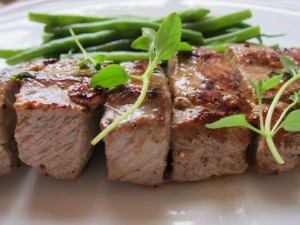 INGREDIENTS
1 pound of lamb loin, cut into 1-inch discs
Salt and pepper
1 tablespoon olive oil
1 cup beef stock
2 tablespoons fresh thyme leaves
1 tablespoon unsalted butter, plus 1 teaspoon, cold
11 ounces of haricots verts, trimmed
PROCEDURE
Bring a stockpot of water to the boil.  Preheat a wide skillet on high heat.  Skewer the lamb onto the bamboo skewers, leaving a little space between each piece of lamb, and season with salt and pepper.  Add the olive oil to the skillet, and sear the lamb for 1 to 1 1/2 minutes on each side, for a total of 2 to 3 minutes, until medium-rare to medium.
Set the lamb aside to rest.  Meanwhile, add the beef stock and thyme to the hot skillet.  Whisk in 1 tablespoon of cold butter, and take the sauce off the heat.
To prepare the haricots verts, salt the boiling water.  Blanch the haricots verts for 3 to 5 minutes, until tender.  Drain.  Return to the pot with the remaining teaspoon of butter, and stir to coat.  Serve with the lamb and its thyme sauce.
print this recipe