I have not forgotten the first time I, as a six year old vegetarian, stuffed my first bite of potato gratin Dauphinoise into my mouth at La Duchesse Anne near Woodstock, New York.  So memorable was the occasion, that I continued ordering the side dish as a main course for the next twenty-three years.  But now that I know how to cook for myself, and it's been almost twenty-five years, I thought it might be time to brush up the old classic and give it a bit of edge.
This is not a hard dish–not nearly as hard to get right as the original potato version.  But it's different, and I like that.  Instead of potatoes, start with anise-scented, crisp, bright fennel, thinly sliced.  Heat that briefly in cream thinned slightly with water, and cover under a snug blanket of breadcrumbs, Pecorino Romano, and herbs.  Bake until the fennel is soft and mellow, the cream is bubbling, and the topping is a crispy crust.
Fresh from the oven, this dish is not as heavy as the original scalloped potato.  Light, complex, still comforting.  I can only describe it as delightful.  The perfect side next to a grilled steak, or, in my childhood fashion, as the main event accompanied by a fresh green salad.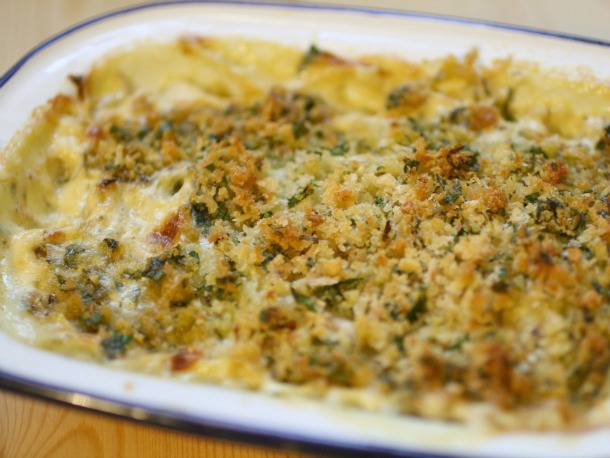 Excerpted from my weekly column French in a Flash on Serious Eats.  Bon app!
Amazing Fennel Gratin
serves 4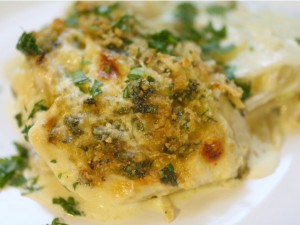 INGREDIENTS
2 fennel bulbs, sliced finely by hand, a mandoline, or a food processor
1 cup heavy cream
2 tablespoons water
Salt and pepper
1/2 cup breadcrumbs
1/4 cup Pecorino Romano cheese
2 tablespoons chopped flat leaf parsley
1 tablespoon olive oil
PROCEDURE
Preheat the oven to 400 degrees F.  In a large bowl combine the fennel, cream, water, and salt and pepper.  Place into a lightly greased enamel baking dish that can move from the stove to the oven.  In a large bowl, mix together the breadcrumbs, Pecorino Romano, parsley, olive oil, and salt and pepper to taste.  Top the fennel with the mixture, and place on the stove over medium-high heat until the cream bubbles.  Place on a foil-lined rimmed baking sheet and bake until the topping is golden and crisp, about 30 minutes.  Serve right away.
print this recipe