Cooking fish 'unilaterally' is something I haven't done since cooking school, but I thought, that's stupid.  It's one of those things you learn in cooking school that is actually easier than everyday cooking.  All it means is that you sear the fish in a pan without ever turning it.  Because you need to leave the fish in the pan for a while to get it to cook all the way through, the side searing in the pan develops this thick, delicious golden crust.  It's fantastic, and it couldn't be easier.
To go with the cod, which I find rather mild, I make a bed of simple creamed baby leeks, which serve as both sauce and side dish.  This is French cooking at its best–a few ingredients, a simple but inspired technique.  Parfait.
Excerpted from my weekly column French in a Flash on Serious Eats.  Bon app!
Crispy Cod Cooked 'Unilateral' with Creamed Leeks
serves 4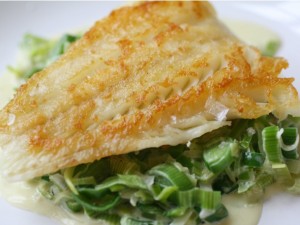 INGREDIENTS
4 6-ounce filets of cod
Salt and pepper
2 tablespoons olive oil
12 baby leeks, finely sliced
1/2 cup heavy cream
PROCEDURE
Season the cod with salt.  In a nonstick skillet, heat the oil over medium heat.  Add the cod, presentation side down.  Allow it to cook, without turning, until the fish is cooked through.  The heat from the bottom of the pan with create a crisp crust on the bottom of the fish, and will steam through the rest of the fish to cook it through.
When the fish is cooked—the flesh should be opaque white and flakey after about 15 minutes—carefully use a fish spatula to remove it to a plate.  Pour off most of the oil from the pan, and return it to medium-low heat.  Add the leeks, season with salt and pepper, and sweat until soft.  Add 1/3 cup of water to help soften the leeks further.  Once this has evaporated, add the cream and let it come to a bubble.  To plate, scoop the creamed leeks on the bottom of a serving dish, and top with the cod, carefully plated golden side up.
print this recipe