You know when there's no food in the house? You're working all the time and didn't get a chance to go grocery shopping. Here in London, supermarkets are only open for a handful of hours, which I, being from New York, have forgotten every weekend since moving here 51 weekends ago.
Instead of going hungry this week, I did what all the TV chefs tell me to do: dive into that "well-stocked" pantry of mine. I recommend the challenge. It's like putting together a jigsaw puzzle, only you get to eat the puzzle at the end.
Found: pasta, breadcrumbs, almonds, garlic, Parmesan, and rosemary, which grows on my windowsill.
I blitzed together the crumbs, garlic, rosemary, Parmesan, and almonds, with a bit of butter and toasted them in a pan. Together, they made this dry, crisp, super-fragrant delicious thing. I set them aside, and boiled up the rigatoni, reserving some pasta water after draining for an old French cooking school trick: a sauce called monté au beurre. Just put a cup of pasta water, full of salt and starch, back in the pan over high heat, and whisk in some cold butter. It creates a light, but milky, sauce, which perfectly contrasting the dryness of those crumbs.
Then it was time to toss the rigatoni into the light butter sauce and top with the crumbs and a bit of extra Parm (of course) and torn rosemary leaves.
Talk about a Frankenstein creation. But it is so good, different, and proof that unless you're one of those people who keep only mustard in their fridge (which I totally get, by the way), it's always possible to cobble together something great.
From my weekly column Dinner for Two on Serious Eats.  Check it out every Friday!
Crunchy Rigatoni with Rosemary, Garlic, and Parmigiano Reggiano
serves 2 to 4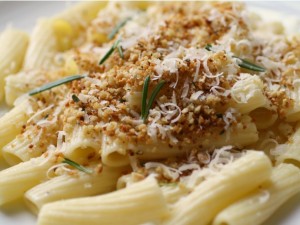 INGREDIENTS
1 cup breadcrumbs, preferably fresh
1 clove garlic
The leaves from 1 stem of rosemary
3 tablespoons sliced almonds
1/4 cup grated Parmigiano Reggiano
Salt and pepper
1 tablespoon unsalted butter, plus 3 tablespoons
1 pound rigatoni
PROCEDURE
In the food processor, blitz together the breadcrumbs, garlic, rosemary, almonds, Parmigiano Reggiano, and salt and pepper until everything is equally combined.  Add 1 tablespoon of butter, and pulse until the butter is evenly distributed into the crumbs (just don't over blitz it, or it will turn into a ball).  Place the mixture in a sauté pan over medium heat, and toast, stirring often, until the crumbs are golden brown, about 10 minutes.
Meanwhile, cook the rigatoni according to package directions in a bit pot of salted water.  Reserve 1 cup of cooking water before draining the al dente pasta.  Add the water back to the empty pasta pot, and bring to a simmer.  Cube the remaining cold butter, and whisk it in a little at a time, to create a milky emulsion.  Immediately take off the heat once all the butter is incorporated.  Stir in the rigatoni and season with salt and pepper.  Pour into a serving bowl, and top with the breadcrumb mixture, extra Parmigiano Reggiano, and torn rosemary leaves.
print this recipe