Mr. English and I are still in what I call the Ikea phase of our lives—style without heavy investment—and we celebrate our home improvements with full Swedish meatball dinners whenever we hit the shop. Yes, I often do break down and buy the huge sack of frozen meatballs, but I thought there had to be a fresher and almost as easy way of making killer Swedish meatballs. And there is!
The secret is to buy sausage: good, sweet pork sausage. It's already full of flavor and seasoning, so to make the perfect Swedish meatball, all you have to do is take it out of its casing, mash it up with some breadcrumbs, milk, and a pinch of nutmeg or allspice, and roll it into little balls. Forget about filling meatballs with herbs, onions, garlic, and all that. It's already in the sausage!
All I do is brown the meatballs in a pot, pour over a slug of beef broth (I used the concentrate stuff you stir into hot water from the pantry) and a glug of sour cream. I just smash up some potatoes, and pour these creamy, meaty little babies over them. They are light, coated in that thick tangy gravy, with that Scandinavian zip of the warmth of allspice. You can serve it with some Ikea Lingonberry jam if you've got it.
From my weekly column Dinner for Two on Serious Eats.  Check it out every Friday!
Easy Killer Swedish Meatballs with Smashed Potatoes and Gravy
serves 2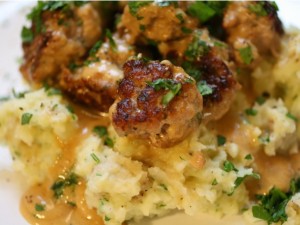 INGREDIENTS
1 pound baby new potatoes
Salt and pepper
14 ounces of sweet pork sausage, removed from its casing
1/4 cup breadcrumbs, fresh if you have them
1/4 cup milk, plus 6 tablespoons
1/2 teaspoon ground nutmeg or allspice, divided
2 teaspoons olive oil
1 cup beef broth
1/4 cup plus 2 tablespoons crème fraîche or sour cream
A handful of chopped flat leaf parsley (optional)
Lingonberry jam (optional)
PROCEDURE
Put the potatoes in a stockpot, and cover by an inch of water.  Add a pinch of salt, and boil until tender.
In a large bowl, gently mix together the sausage meat, breadcrumbs, 1/4 cup milk, 1/4 teaspoon of nutmeg or allspice, and salt and pepper.  Use a small ice cream scoop if you have one to shape the mixture into 20 small, even meatballs.  Add the olive oil to a wide nonstick skillet over medium-high heat, and add the meatballs.  Brown the meatballs on all sides, and add the beef broth.  Cover the pot, and simmer until the meatballs are cooked through, 10 minutes.  Continue simmering uncovered if necessary to thicken the broth so that it just coats the back of a spoon.  Add the remaining nutmeg or allspice and 2 tablespoons crème fraîche or sour cream.  Stir to combine and set aside.
Drain the potatoes, and return back to their hot pot.  Add 6 tablespoons milk and 1/4 cup of crème fraîche or sour cream, and season with salt and pepper.  Add half the parsley, if using, and smash the potatoes.  Plate the potatoes, and pour the meatballs and sauce over the top.  Top with the remaining parsley.  Done!
print this recipe