This is quickly winning over the coveted place in my heart for Best Dinner for Two.  It has all the criteria: Superman speed, phenomenal taste, and it's pretty guiltless.
Just buy some good tuna and coat it with sesame seeds (I use a combination of white and black because I have them on-hand, but use either, or you could even omit them).  Give it a quick sear in the pan, followed by a bunch of asparagus.  My supermarket sells ready-cooked Asian egg noodles in the produce section.  I just toss them with some soy sauce, some lime juice, and some water–so light and savory and refreshing–along with the asparagus, chopped green onion, and fresh cilantro.  Then, the tuna is placed on top, the crowning glory–pink on the inside and crisp from sesame coating.
It's take-out done right, in less time, for less money, and for a lot fewer calories.  Mr. English and I took it outside to soak up the last of the London summer.  This is a once-a-week meal; it just hits the spot.
From my weekly column Dinner for Two on Serious Eats.  Check it out every Friday!
Sesame Seared Tuna with Soy Lime Noodles and Veggies
serves 2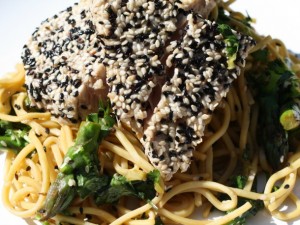 INGREDIENTS
2 4- to 5-ounce tuna steaks
Salt and pepper
6 tablespoons sesame seeds
Oil for searing
1 12-ounce bunch of asparagus, trimmed and quartered
1/4 cup soy sauce
1/4 cup water
Juice of 1 lime
1 14-ounce pack of cooked egg noodles
2 scallions, thinly sliced
1 1-ounce small bunch cilantro, roughly chopped
PROCEDURE
Pat the tune dry with paper towel and season on both sides with salt and pepper.  Pour the sesame seeds onto a wide plate, and coat the tuna on both sides with the seeds.  Add enough oil to coat the bottom of a wide nonstick skillet over medium-high heat.  Sear the tuna one minute on each side for medium doneness (30 seconds each side for rare, 90 seconds to 2 minutes per side for well done).  Remove the tuna and set aside.  Add the asparagus to the pan and cook just until charred, about 3 minutes.  Just before removing the asparagus, add any sesame seeds from the plate that didn't stick to the tuna to the pan to toast.
Meanwhile, in a large bowl, stir together the soy sauce, water, and lime juice.  Add the noodles, scallions, cilantro, and asparagus and toasted sesame seeds, and toss to combine.  Plate the noodles.  Cut each tuna steak in half, and perch on the noodles.  Serve!
print this recipe