In the south of France, everything is tagliatelle. I will never forget the first time I had this dish: June, a handful of years ago, outside at a table tucked away down a side alley in the little seaside town of Cassis. A breeze billowing through a humble tablecloth. The sky still lit, but casting only shadows. We had been travelling all day. I wanted something authentic, Provençal, but still familiar.
Out came a tangle of soft, flat pasta, wafting the scent of garlic like a cloud, flavored with smashed basil, oozing Parmesan, and the sweet, chewy tang of the plethora of Provençal sun-dried tomatoes that makes Provençal pistou what it is, and so different from the pestos we've come to know. It was humble and simple, but representative of the place where everything is tangled in garlic and tomatoes and herbs. For me, this dish is forever summer in Provence.
Excerpted from my weekly column French in a Flash on Serious Eats.  Bon app!
Happy Meatless Monday!
Tagliatelle with Provençal Red Pistou
serves 4 to 6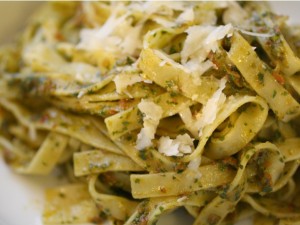 INGREDIENTS
1 clove garlic
2 1/2 cups fresh basil
20 sundried tomatoes (a full half cup)
1/4 cup grated Parmigiano Reggiano
6 tablespoons of olive oil
Salt and pepper
1 pound fresh tagliatelle
PROCEDURE
Bring a large pot of water to boil.  While the water is heating, make the pistou.  Add the garlic to the food processor, and blitz it to smithereens.  Add the basil, sundried tomato, Parmigiano Reggiano, olive oil, and salt and pepper to taste.  Blitz in the food processor until you have the consistency of a pesto, scraping down the sides of the bowl once to make sure everything is evenly incorporated.
Salt the boiling water, and cook the tagliatelle for just about 4 minutes, until just cooked.  Drain, reserving 1 cup of pasta water.  Toss the tagliatelle with the pistou, adding pasta water as needed to thin out the sauce.  Serve immediately.
print this recipe