This is one of those dinners for two that you could make for four, because it's company food.  Perfectly seared crispy salmon with a crunchy golden crust, warm wasabi edamame salad, and rice scented with jasmine green tea.  It sounds high falutin, but it's so easy, light, and healthy, that you could just as easily make it for yourself.
I start with boil-in-a-bag rice, which comes pre-portioned for two people, and I just follow the package instructions–except I add a jasmine green tea bag to the boiling water, so that I'm effectively cooking the rice in tea.  The rice is stained and scented by the tea, and becomes this unique, subtly floral perfect-every-time rice.  Such a cool trick.
While the rice cooks, I sear salmon simply in a nonstick pan until a dark crunchy crust forms on the fish.  To pour over and flavor the salmon and rice, I whisk up a light wasabi dressing and toss it with warm edamame.  I stack the rice, then the salmon on a plate, and pour the wasabi edamame salad over the top.  The edamame is light and healthy and beautifully jade green.  And the wasabi sauce pours in rivulets into the crevices of the salmon and down into that jasmine-scented rice.  Who knew you could do so much in 15 minutes!
From my weekly column Dinner for Two on Serious Eats.  Check it out every Friday!
Crispy Salmon with Jasmine Tea Rice and Wasabi Edamame
serves 2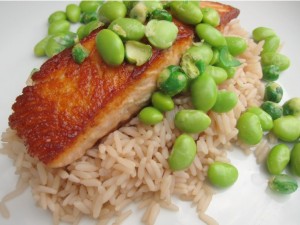 INGREDIENTS
Sea salt
3/4 cup shelled frozen edamame
1 jasmine green tea bag
1 4.5-ounce bag boil-in-a-bag white rice
1 teaspoon vegetable oil
2 5-ounce skinless, boneless fillets of salmon
3/4 tablespoon rice vinegar
1/2 tablespoon water
1/4 teaspoon granulated sugar
1 teaspoon mayonnaise
Wasabi paste to taste
Wasabi peas to garnish (optional)
PROCEDURE
Fill a saucepot with water and a pinch of salt.  Add the tea bag and bring to a boil.  Remove the tea bag, and cook the rice in the tea water according to patch directions.  In the last 90 seconds of cooking, plunge the edamame into the boiling water with the bag of rice.  Drain both, keeping the rice and edamame separate.
Season the salmon with salt on both sides.  In a medium-sized nonstick skillet, heat the oil on medium-high heat.  Place the fish, presentation side down, in the skillet, and sear until golden and crispy, about 6 minutes.  Use tongs to flip the fish over, and finish cooking for another 2 minutes.
Meanwhile, whisk the rice vinegar, water, sugar, mayonnaise, wasabi paste, and a pinch of salt together in a bowl.  Add the warm edamame, and stir to combine.  To plate the dish, place some jasmine tea rice on a plate.  Top with fish.  Spoon the warm edamame salad on top, and crown with crushed wasabi peas.  Done!
print this recipe