I find, living in London, that I really, really miss New York takeout.  The exotic options.  Thailand.  Persia.  Ethiopia.  They were, without exaggeration, just around the corner.  So, while I am always encouraging in this column that cooking at home is cheaper, healthier, and faster than takeout, I have to come clean that I have a fourth reason: I miss the flavors that I learned to love from New York delivery.
It was those forlorn Manhattan gastronomic reminiscences that inspired this meal.  Like all Dinners for Two, it's easy and quick, but I think it's also probably the most exotic, and consequently one of my favorites.
I start with lean pork loin, and roll it in a crust of sea salt and Chinese five spice powder.  I really am a huge proponent of buying regional spice blends.  It's a great way to add a kick of China (or India, or Morocco, depending on the recipe), without having to invest in all the separate components.  I find I use up these blends far more quickly then I ever do individual spices.  Five spice consists of star anise, cloves, cinnamon, Sichuan pepper, and fennel seeds, so it has a spicy, musky fragrance, and that really powerful sweetly spiced pungency that creates the most fascinating crust on the pork.  I sear that in a pan, and throw in some exotic mushrooms, and they all roast together in the oven without any interference from me until the pork is juicy and the mushrooms are crisp and charred.  They're done in just 20 minutes.
Meanwhile, I toss together cabbage, cilantro, and green onions, with a light sauce of mayonnaise thinned with water, rice vinegar, and sriracha.  It's crisp and refreshing, but the rice vinegar and sriracha pack so much flavor into all the veggies.  I slice the pork, place it on the slaw, and top it with the charred mushrooms and salted peanuts.
At first, Mr. English and I thought this might be more of a dinner for three than for two, but within fifteen minutes, we'd devoured the whole thing.  It's light, it's lean.  But it's satisfyingly alluring and different.  And for a little while, I didn't miss New York.
From my weekly column Dinner for Two on Serious Eats.  Check it out every Friday!
Lean Chinese Five Spice Pork with Asian Slaw
2 servings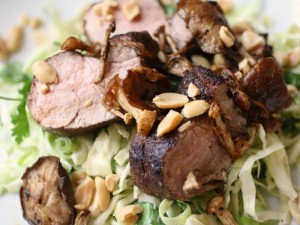 INGREDIENTS
1 1-pound pork loin
Salt
1 tablespoon Chinese five-spice powder
1 tablespoon vegetable oil
5 ounces exotic mushrooms (optional)
2 tablespoons mayonnaise
1 tablespoon water
2 teaspoons rice vinegar
Up to 1 tablespoon sriracha (to taste)
1 sweetheart, Napa, or green cabbage, shredded
4 green onions, finely sliced
1 cup (about 1 bunch) roughly chopped fresh cilantro
A handful of salted, roasted peanuts, roughly chopped
DIRECTIONS
Arrange the oven rack in the center of the oven, and preheat the oven to 425 degrees F.  Season the pork with salt, and coat in the five-spice powder.  Preheat a sauté pan that can go from the stove to the oven over medium-high heat.  Add the oil, and the pork.  Sear about 2 minutes on one side to get a golden crust, then flip the pork over.  Coat the mushrooms in any extra five-spice powder that didn't stick to the pork, and scatter the mushrooms, left whole, around the sides of the pan, and toss them to coat in oil.  Transfer the pan with the pork and mushrooms to the oven and roast for 15 to 20 minutes, until the pork is cooked through and the internal temperature reaches 145 degrees F.  Allow to sit for 10 minutes while you make the slaw.
In a large bowl, whisk together the mayonnaise, water, rice vinegar, and sriracha.  Season with salt, and toss in the cabbage, green onion, and cilantro.  Toss to coat.
Slice the pork into thick rounds.  To serve, place a mound of the slaw on a plate, and top with the sliced pork.  Scatter the mushrooms on top, and crown with chopped peanuts.  Serve extra sriracha on the side for the pork.
print this recipe