My old friend had a dinner party last week, and I went over in an Ethel Mertz capacity–an old friend and neighbor, rounding out a party of newer chums.  I liked them, especially when one, Nicky, came up to me and said that she had been making recipes off my blog for herself and her boyfriend.
I was thrilled and nervous, as I am when anyone tells me they make one of my recipes, and so I asked her if she had any requests.  She did:
Can you make some duck?
There is something super autumnal about duck.  It has the false levity of being poultry, but is unmistakably cold-weather decadent.  I decided I would put together the perfect autumn salad out of my mock-confit leg of duck and a light, crunchy root vegetable slaw.
My mock confit of duck is a house favorite.  I just salt duck legs, and put them in a skillet over medium heat, skin down, until the skin begins to crisp.  Then I transfer them to a low oven and cook them for two hours, flipping once.  They come out skin and meat crackling and velvety, just like confit, but without all the fat.  On the side, I made a slaw of thinly sliced celeriac, beets, fennel, carrots, and shallots, tossed with parsley and a cider vinegar-thyme vinaigrette.  I let the slaw sit and marinate in the fridge while the duck roasts so it softens, and everything melds together in a kind of beet and apple cider haze.  The duck side is crisp, salty, indulgent, satisfying, and the slaw is refreshing, snappy, bright, and deep from all those root vegetable flavors that run from sweet to savory.
This one's for you, Nicky!  I hope you like it.
Excerpted from my weekly column French in a Flash on Serious Eats.  Bon app!
Mock Duck Leg Confit with Root Vegetable Slaw
serves 6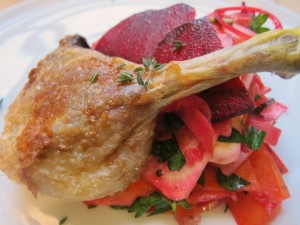 INGREDIENTS
1/4 cup olive oil
3 tablespoons cider vinegar
1 tablespoon lemon juice
1 teaspoon fresh thyme leaves
1/4 teaspoon honey
Freshly cracked black pepper and sea salt
2 cups thinly sliced fennel
2 cups thinly sliced celery root
2 cups thinly sliced carrot
2 cups thinly sliced beet
3 thinly sliced shallots
1 bunch of flat-leaf parsley, roughly chopped
6 duck legs
PROCEDURE
In a large bowl, whisk together the olive oil, vinegar, lemon juice, thyme leaves, honey, pepper, and salt.  Use the fine slicer disc of a food processor to thinly slice all the vegetables.  Add them and the parsley to the large bowl, and toss with the vinaigrette.  Cover with plastic wrap, and refrigerate until later.
Preheat the oven to 300 degrees F.  In a wide oven-safe skillet, place the duck legs, skin side down, over medium heat.  Season the duck with salt, and sear until the skin begins to crisp.  Place the whole skillet, with the duck, in the oven.  Roast for 1 hour, then flip the duck legs, and roast for another hour.
To serve, mound the softened vegetable salad on a plate, and top with a crispy, almost-confited duck leg.
print this recipe