Right now, in London, it's decidedly cold.  In that surprising way, where you wake up and get out of the shower, chilly, and think, is it really late October already?
It's soup time.  Time to armour myself with something warm and intensely healthy, that will ward off colds and the cold, in one pot.
I think of beets as French probably because my mom has always been a beet devotee, juicing them for me as a kid, slicing them into salads, and roasting them alongside anything that goes in the oven.  So it was with happy nostalgia that I made this simple soup.  Beets, roasted simply with a little olive oil and salt, until they are soft with caramelized edges.  Simply puree them with softened leeks, fresh woodsy thyme, vegetable broth, and the squirt of lemon that balances their sweetness.  The soup is smooth, hot, like intensely, intensely red drinkable velvet.  I stir in a spoon of crème fraîche to calm the heat, color, and intensity of soup, and give it a creamy lushness.  Serve with a torn hunk of baguette, you have the perfect fall soup.
Excerpted from my weekly column French in a Flash on Serious Eats.  Bon app!
Roasted Beet Soup with Thyme, Lemon, and Crème Fraîche
serves 4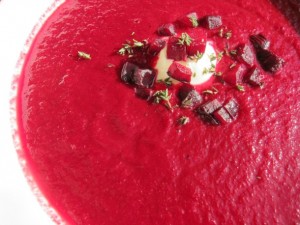 INGREDIENTS
5 beets
3 teaspoons olive oil, divided
Salt and pepper
1 small leek, white and light green parts sliced
The leaves from 4 stems thyme
4 cups vegetable broth
1 tablespoon lemon juice
Crème fraîche for serving
PROCEDURE
Preheat the oven to 400 degrees F.  Peel and dice the beets, and place them on a parchment-lined rimmed baking sheet.  Toss with 1 teaspoon of olive oil, and salt and pepper.  Roast for 35 to 40 minutes, until tender to the point of a knife.
When the beets are roasted, add the remaining 2 tablespoons olive oil to a large stockpot.  Add the sliced leeks and season with salt and pepper, and the leaves of thyme.  Sweat on medium-low heat until the leek is tender, but not golden.  Add the beets, vegetable broth, and lemon juice, and bring to a boil.  Use an immersion blender to purée the soup.  Ladle into bowls, and top with a dollop of crème fraîche.  Bon app!
print this recipe