Mr. English and I really wanted a dinner last week that was vegetarian, that was virtuous.  Every day for lunch we grab a ham sandwich, or we go out for dinner and indulge in a steak.  We were doing far too much of that, and we wanted something that would help us push 'reset' on our meal plan for the week.  So I made veggie lo mein.
I'm the first to admit that veggie lo mein, traditionally, doesn't exactly equate to good health.  It's one of those greasy foods you order in the day after you stay up too late, and pinch at with chopsticks curled up on the couch watching bad TV.  But there was potential.
I started off with a ton of vegetables: carrots, shitake mushrooms, Napa cabbage, snow peas, and green onions.  You can add, subtract, or substitute all you want.  And I devoted a few minutes to cutting them to their advantage.  I used a vegetable peeler to shave the carrot into paper thin planks.  I cut the snow peas into matchsticks.  And I shredded the mushrooms, cabbage, and green onions.  If you're not good with a knife, you really don't have to do this, but I find it makes the vegetables really tender, and allows them to get happily tangled up in the noodles.  Plus, I happen to enjoy ten minutes of chopping after work.
And that's your work done.  I just toss the veggies into a big nonstick skillet with a bit of toasted sesame oil (you could use any vegetable oil you have on hand), and toss them around for about 7 minutes.  Then add some grated garlic and ginger, and lo mein noodles that I can buy (and do!) ready cooked in the produce aisle of my supermarket.  Three minutes later, I add some low-sodium soy sauce, and some sesame seeds and cilantro (you can leave out the last two if you want to keep it simple–they mostly just gild the lily).  I keep the vegetable to noodle ratio extremely high, to maximize this meal's virtue score.  In ten minutes you have a perfect heap of light, but extremely flavorful veggies and noodles.
In the spirit of full disclosure, we did eat it curled on the couch, with chopsticks, watching bad TV.  But we were virtuous on the inside.
Virtuous Veggie Lo Mein
serves 2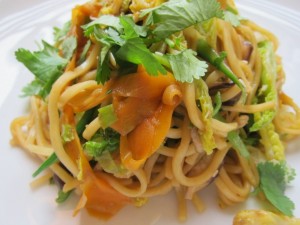 INGREDIENTS
1 tablespoon toasted sesame oil
3 scallions, sliced
4 ounces shitake mushrooms, sliced
1 carrot, thinly sliced or peeled into ribbons with a vegetable peeler
7 ounces of snow peas, whole or thinly sliced
4 cups shredded Napa cabbage
Sea salt
1 clove garlic, grated
2 teaspoons grated ginger
14 ounces cooked lo mein noodles
1/4 cup low-sodium soy sauce
Sesame seeds for garnish (optional)
Chopped fresh cilantro for garnish (optional)
PROCEDURE
Heat the sesame oil in a wide nonstick skillet over medium-high heat.  Add the scallions, mushrooms, carrot, snow peas, and cabbage, and season lightly with salt.  Sauté, stirring often, until softened but still vibrant, about 7 minutes.  Add the ginger, garlic, and noodles, and stir to incorporate.  Cook another 3 minutes.  Finally, take the pan off the heat and stir in the soy sauce, and the sesame seeds or cilantro if using.  Serve right away and devour with chopsticks.
print this recipe