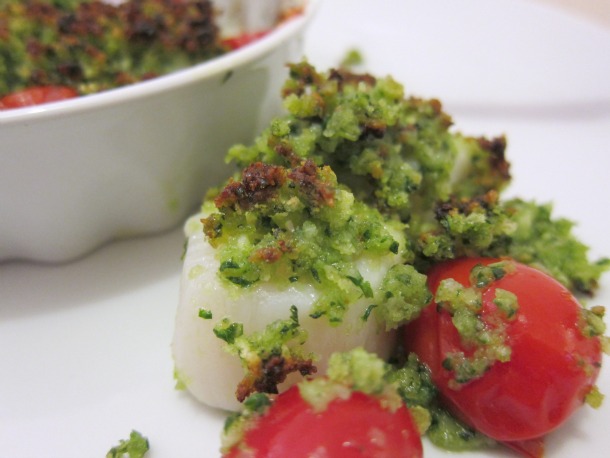 I hate to say it, but I have a real bone to pick with English markets.  And I just don't understand what the problem is!  I can never find seafood.  Giant shrimp like we have in the States.  Scallops.  Calamari.  Just can't find them.  But when the kind of downtrodden mini supermarket by my office started stocking "large sea scallops," I went a little crazy.  (You can expect to see a few more of these recipes!)  I crammed them all together in a little gratin dish along with grape tomatoes.  And then for the topping I whizzed up some of the stash of fresh breadcrumb I keep in the freezer with a clove of garlic, some fresh basil, and butter.  Boom.  Gratin-ed together, the top becomes this kind of pistou-ed crumble, and the scallops and tomatoes together underneath collapse and release all their sweet juices.
Normally, when I'm in Provence and I order seafood, I order moules à la Provençale, which is mussels steamed with tomatoes, garlic, and sometimes basil.  So I thought for these special little scallops, I wanted to take the same flavors, deconstruct them, and build them back up together again.  The tomatoes go in whole with the scallops.  The basil and garlic get to work in the breadcrumbs.  This is one of those recipes that I hope is something of a French Revolution signature: super easy, done in minutes, but with enough chic to warrant some company.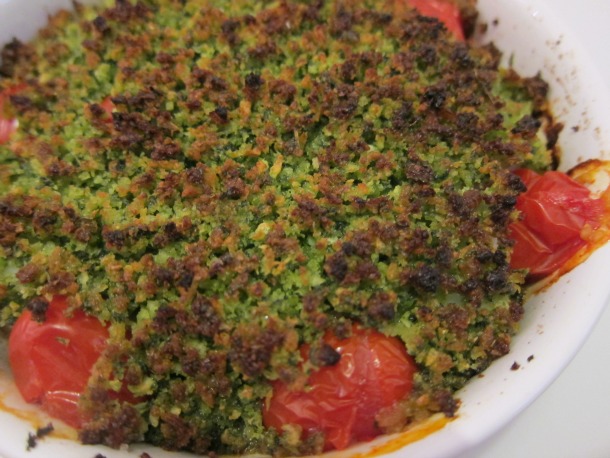 Excerpted from my weekly column French in a Flash on Serious Eats.  Bon app!
Broiled Scallops Provençale
serves 2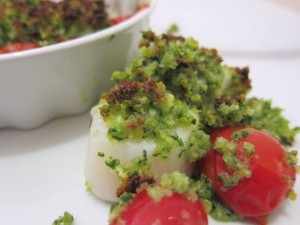 INGREDIENTS
A drizzle of olive oil
14 large sea scallops
16 grape tomatoes
Salt and pepper
2 cloves garlic
1/2 cup basil leaves
1/2 cup fresh breadcrumbs
1/4 cup grated Parmesan
2 tablespoons unsalted butter
PROCEDURE
Preheat the oven to 450 degrees F.  Pour a drizzle of olive oil into each of two gratin dishes, and use your fingers to grease the inside of the dish.  Arrange the scallops and tomatoes in an even layer between the two dishes, and season with salt and pepper.
In a mini food processor, blitz together the garlic, basil, and breadcrumbs until completely combined.  Add the Parmesan, butter, salt, and pepper, and blitz until combined.  Divide the basil crumbs over the top of the two gratin dishes.  Place the dishes on a rimmed baking sheet, and bake for 10 minutes.  Serve hot.
print this recipe