My best friend is going vegan.  And her new husband decidedly is not.  He's so un-vegan that when I met him, he refused to eat anything that was green.  He has since started including basil.  A big step.
I developed this recipe for the two of them—my very old and dear friends with whom we often share Sunday night dinner (so, in fact, this really benefits Mr. English and myself just as much).  You can keep it vegan by omitting the torn fresh mozzarella, and you can make it even healthier by using whole grain rigatoni.
The great thing about this recipe is that you can look like a kitchen champ even if you can't handle a knife.  All you have to do is blitz the veggies—carrot, onion, garlic, and the mushrooms, of course—in the food processor.  Cook them simply in a big pan, and then add store-bought tomato sauce and some dried mushrooms you can find in any supermarket.  Because of all the veggies in the sauce, the sauce takes on that thick, dark, chunky texture of beefy Bolognese.  I toss it with al dente rigatoni, so the sauce can get stuck inside the little tunnels of pasta.  I plate it up, and tear cold fresh mozzarella over the top.  If I'm feeling flush, I'll add a drizzle of truffle oil.
Healthy and delicious!  In getting married, everyone says I'd have to compromise.  I always knew compromise was overrated—and in this case, completely unnecessary.
Mushroom Rigatoni Bolognese with Fresh Mozzarella and Truffle
serves 2 to 4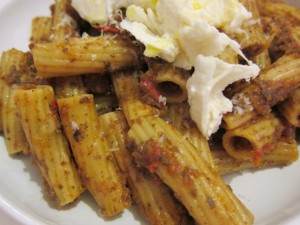 INGREDIENTS
1/2 pound Portobello mushrooms
2 1/2 tablespoons olive oil, divided
Salt and pepper
1 carrot
1/2 yellow onion
3 cloves garlic
0.9 ounces dried porcini mushrooms
2 cups tomato basil sauce
1 pound rigatoni
1 5-ounce ball of fresh mozzarella
Truffle oil
PROCEDURE
Add the mushrooms to the food processor and blitz to a rubble.  Add 1 1/2 tablespoons of olive oil into a wide nonstick skillet over high heat.  Add the mushrooms, and sauté until all of their liquid has evaporated.  Season with salt and pepper, and set aside in a small bowl.
Meanwhile, blitz the carrot, onion, and garlic in the same bowl of the food processor.  Add the remaining tablespoon of oil to the same hot skillet, and add the vegetables.  Season with salt and pepper, and cook over medium heat, stirring often, until completely soft—about 5 minutes.  All this can be done while a big pot of water is coming to boil for the pasta.
Add the tomato sauce to the vegetables, and add the dried mushrooms and sautéed mushrooms to the same pan.  Add 1 cup of water.  Cover, and simmer for 10 to 15 minutes.    If the sauce ever becomes too dry (from the dried mushrooms sucking up liquid, add another half cup of water).  Meanwhile, cook the pasta according to package directions until al dente.
Drain the pasta, reserving 1 cup of pasta water.  Add the pasta to the sauce, and toss to coat.  If the pasta is too dry, add some reserved pasta water.  Serve in a big bowl, and tear the ball of mozzarella over the top.  Drizzle with truffle oil, if you want to.  Serve right away.
print this recipe