I could reinvent the Niçoise salad a thousand ways, and have.  But what brings me back to it constantly is how punchy it is.  Big flavors.  Big colors.  Big personalities.  This is not a salad of wallflowers–illustrated perfectly by the fact that lettuce is just an afterthought.  Just thick chunks of tuna, briny olives, emphatic little capers, sun-bright lemon.
And that's what I've reduced it to here.  Fresh tuna steaks roasted with salt and olive oil and cut into chunks.  Sweet grape tomatoes, simply halved.  Green and black olives.  Capers for punch.  Olive oil and lemon.  It makes a simple salad, that turns into the topping on this easy tartine.  The only other embellishment on the grilled bread is a swipe of garlic and a simple basil fromage blanc to anchor everything and bring in that taste of Provence.
The taste, even at this time of year, is so fresh and sun-soaked, you can't help but feel like the sun must be shining somewhere.  Probably in Nice!
Excerpted from my weekly column French in a Flash on Serious Eats.  Bon app!
Niçoise Toasts with Fresh Tuna and Tomatoes
2 servings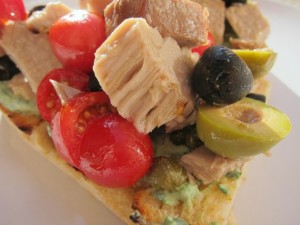 INGREDIENTS
1/2 cup packed basil leaves
1/4 cup fromage blanc
Salt and pepper
2 teaspoons plus 2 tablespoons olive oil
2 tuna steaks, 4 to 5 ounces each
1 cup halved grape tomatoes
1/2 cup halved green and black olives
4 teaspoons drained capers in brine
2 tablespoon lemon juice
4 1-inch thick slices of rustic bread
1 clove of garlic, halved
PROCEDURE
Preheat the oven to 400 degrees F.  Blitz the basil, fromage blanc, and salt and pepper together in a mini food processor until well combined.  Spoon into a small bowl, and chill until ready to use.
Season the tuna with salt and pepper, and place on a parchment-lined rimmed baking sheet.  Rub with 2 teaspoons of olive oil on all sides.  Bake for 10 minutes, until cooked through.  Cut into cubes.
In a bowl, mix together the tomatoes, olives, capers, remaining 2 tablespoons of olive oil, and the lemon juice.  Season with salt and pepper, and gently stir in the chunks of tuna.
Grill or toast the bread, and rub it while it is still hot with the cut side of the garlic clove.  Spread some of the basil fromage blanc over the top, and top with the tuna and tomato mixture.  Serve right away.
print this recipe