Last night we came home to London after a whirlwind wedding planning weekend in Paris.  I think if I'm honest, I didn't want to come down from the high that was the weekend (in Paris!) and face the reality of a work week!  The Sunday night frights were in full force.  So I made something escapist–a bowl of Versailles to dig into–using a little bottle of truffles I found at the supermarket that I squirreled away for just such an occasion as this.  And the great thing was, even though using truffles made it special, it was easy.
Make no mistake: this is decadent.  But that's what I need sometimes on Sunday nights.  A bit of creamy comfort.  Boil the pasta, and while it's cooking in its hot salt bath, grate and slice the black truffles.  Drain the pasta, but keep some of the water.  Then, create a really simple, but enveloping sauce but whisking a bit of cold butter into the hot pasta water on the stove.  Finish with some cream and the truffles.  Toss the pasta in all of that goodness, and serve with black truffle oil and good grated Parm alongside.  I made a big salad with just olive oil and balsamic on the side to make me feel better about all the cream.  It worked.  I felt like a million dollars!
Oh, and I should mention, the jar of truffles did not cost a million dollars.  It cost fifteen.  Which isn't cheap, but considering this feeds four, it's not too bad compared to what you'd pay in a restaurant.
Millionaire's Spaghetti with Truffles
serves 3 to 4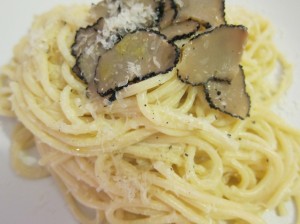 INGREDIENTS
1 pound of spaghetti
Sea salt
1 50-gram jar of preserved black truffles
2 tablespoons unsalted butter
½ cup cream
A drizzle of black truffle oil
Freshly grated good Parmesan
PROCEDURE
Get the pasta cooking in a big pot of boiling salted water—until al dente.  Meanwhile, prepare the truffles.  Grate one on a microplane grater—the same you'd use for the Parmesan.  Then slice the other two (there were three truffles in my 50-gram jar) thinly on a mandoline or with a knife.
When the pasta is cooked, reserve 1 cup of pasta water before draining.  Add ½ cup of reserved pasta water back into the pasta pot, and put over medium-high heat.  Cut the cold butter into small cubes, and whisk them into the bubbling pasta water a little at a time.  Whisk in the cream, and finally, the grated and sliced truffles.  Season with salt, take off the heat, and add the pasta.  Use tongs to wrap the sauce all around the pasta strands.  If you need to thin out the sauce, you have some extra pasta water with which to do so.  Serve right away (this won't wait!) with a bowl of grated Parm on the side.
print this recipe