I love living with Mr. English, just the two of us.  But because living with Mr. English means living in England, Thanksgiving is pretty much also just the two of us.  Actually, this year, there will be three of us, but you get the picture.  No giant roast bird.  No plethora of pies.  No smorgasbord of sides.  It just doesn't make sense.
But however nontraditional our Thanksgiving is, I still want it to taste traditional!  Because here in the UK, I work on Thanksgiving Thursday, and then come home eager to celebrate my favorite holiday, I had to come up with something that not only felt traditional and American, but was also easy and simple.
Hence, the turkey pie.  A little British accent in our classic Thanksgiving feast.  I use my food processor to jet-slice celery, carrots, onions, garlic, and mushrooms.  I stew them with ground dark meat turkey, fresh mossy thyme, deeply savory Worcestershire sauce, wine, and stock.  They blip together on the stove for a few minutes, and then I effortless spout them off into a beautiful baking dish, cover with puff pastry I bought at the store, paint it with milk, bake it, and voila.  This gorgeous, puffed, steaming meal full of turkey and vegetables and salty, crunchy pastry emerges from the oven, ready to over-stuff me and Mr. English, or to share with our one Thanksgiving guest.
It tastes like home.  It feels hearty.  It's classic, if a bit different.  And it's Thanksgiving for just a few in under an hour.  Not too shabby!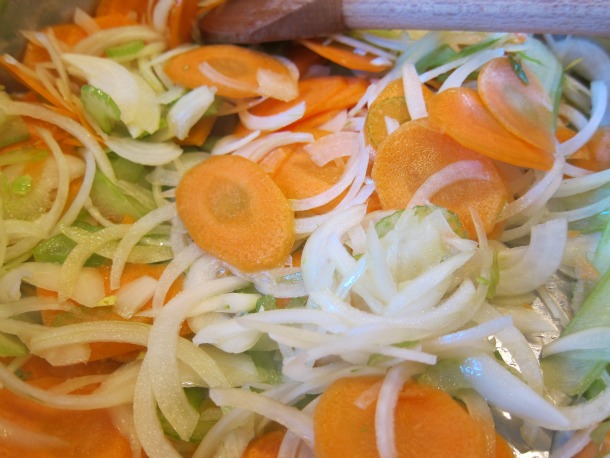 From my weekly column Dinner for Two on Serious Eats.  Check it out every Friday!
Rustic Turkey and Vegetable Pie
serves 2 to 4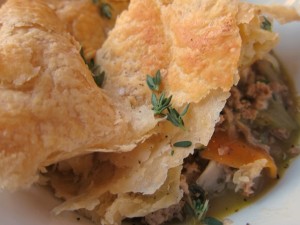 INGREDIENTS
2 tablespoons olive oil
1 large carrot
3 celery stalks
1 medium yellow onion
2 cloves garlic
Salt and pepper
8 to 9 ounces cremini mushrooms
1 pound ground dark meat turkey
1 1/2 tablespoons all-purpose flour
1/4 cup dry white wine
2 cups low-sodium chicken broth
2 teaspoon Worcestershire sauce
The leaves from 4 stems of thyme
1 sheet of frozen puff pastry, thawed but cold
Milk for brushing
PROCEDURE
Place 1 tablespoon of olive oil in a cold sauté pan.  Fit the food processor with the thick slicer attachment.  Quickly slice up the carrots, celery, onion, and garlic.  Turn the heat on under the sauté pan, and when the oil shimmers, add the vegetables and season with salt and pepper.  While the vegetables are sweating, slice the mushrooms in the same way on the food processor.
When the vegetables are nice and soft, turn them out into a bowl and set aside.  Add another tablespoon of olive oil to the pan, and when it shimmers, add the ground turkey.  Season with salt and pepper and sauté until the pan is dry and the turkey begins to brown.  Add in the raw mushrooms, and the cooked vegetables.  Stir in the flour to coat everything in the pan.  Add the white wine, and the chicken stock, and Worcestershire sauce, and thyme.  While these cook together for 5 minutes, preheat the oven to 400 degrees F.
Turn out the turkey mixture into your baking vessel: I find one rectangular baking dish to be easiest.  Brush the sides of the dish with milk, and drape the pastry tightly across, pressing gently into the milked sides (this will help the pastry stick).  Cut a slit for the steam to escape in the center of the pastry, and then brush all the pastry lightly with milk.  Place the pie on a rimmed baking dish to catch any spills, and bake for 20 to 25 minutes, until the pastry is puffed and golden.  Serve hot!
print this recipe