Mr. English and I are half mad about the steak tacos at a Mexican place here in London called Wahaca.  They're not much to write home about—just grilled steak, pickled onions, cilantro, a bit of salsa.  But in their warm, small, snug simplicity, they are perfect.  When it came to rustling together a weeknight dinner for two, I knew I had to knock off the perfect Wahaca original.
Start with the onion.  This is such a cool trick.  Thinly slice the onion and then put it in a bowl with a pinch of salt and some vinegar.  Stir it all up and let it sit while you prepare the rest of the taco ingredients, and in 15 minutes, voilà, you have a quick-pickled onion.  A bit mellow, a bit snappy, definitely the perfect counterpoint to the rich beef.
For the steak, I go off and use filet mignon.  It is pricier than other cuts of meat, but it is so tender, and because you're only cooking for two, and slicing the steak, a little goes a long way.  I can't apologize for it—it makes these tacos such a treat.  I crust it on the outside with what I call taco spices: cumin and chili powder.  But you can get creative or use whatever you have on hand: chipotle powder, blends, whatever.  Then I give it a quick sear and slice.
All that's left to do is warm some tortillas (good corn ones!), tear up some cilantro, and crumble some queso fresco (feta would be a good substitute if you need one).  You can also pick up some fresh pico di gallo at the supermarket if you want to add another layer to these tacos.  Then, just pile them high!  Spiced, rare sliced filet mignon.  The pickled onions, which you've drained, and are so full of attitude.  The fresh cilantro.  The salty, crumbly cheese.  I could eat a dozen.  In fact, be warned.  Mr. English did say, I could eat another batch.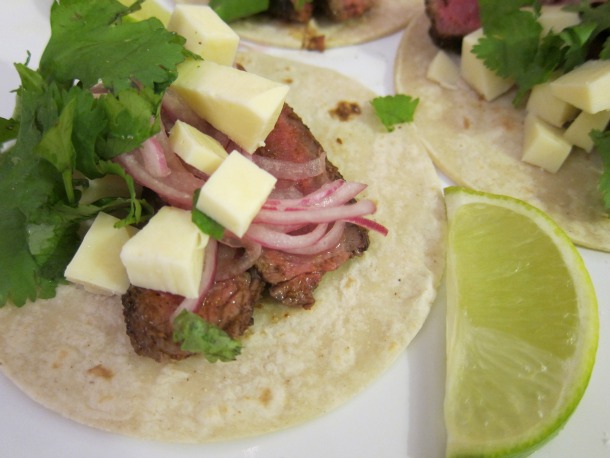 From my weekly column Dinner for Two on Serious Eats.  Check it out every Friday!
Filet and Pickled Onion Tacos
serves 2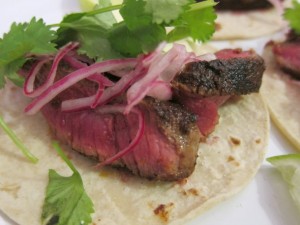 INGREDIENTS
1/3 pound beef filet, cut in two steaks
1 teaspoon cumin
1 teaspoon chili powder
Salt
1 red onion
1/4 cup wine vinegar
1 tablespoon olive oil
10 small (4 1/2 inches) corn tortillas
1 cup diced queso fresco
1 small bunch of cilantro
1 lime, cut in small wedges
PROCEDURE
Season the filet steaks with cumin, chili powders, and salt.  Set aside.  Use a mandoline to very thinly slice the red onion.  Place the red onion, vinegar, and a good pinch of salt in a bowl, and stir to combine.  Let sit for 15 minutes to quick pickle while you finish the tacos.
Preheat a small nonstick skillet with a tablespoon of olive oil.  Sear the steaks 2 minutes on each side for rare meat.  Set aside to rest.  Meanwhile, heat the tortillas.  Dampen a paper towel with water, and wring any excess moisture from it.  Wrap it around the stack of tortillas and microwave for 30 to 60 seconds, until the tortillas are warm and pliable.
Thinly slice the steak.  Make the tacos by piling on steak, pickled onions (discard the vinegar), queso fresco, cilantro, and a squirt of lime.  Dig in.
print this recipe