I love writing this column!  Because, some lucky weekends, I get to stuff like this.
The best vacation Mr. English and I ever took–and there is some stiff competition–was to the Greek islands.  In terms of a culinary adventure, no other trip has ever matched it.  The gigantes beans baked with tomatoes.  Those deep fried Greek salad fritters (that's my name for them).  The olives.  The baklava.  The walnuts and yogurt.  The sea bream, every night.  The pomegranates.  The octopus, and urchin, and ouzo.  I was never not hungry on those islands.
Because this column is about what Mr. English and I really eat in our little menage à deux, I take inspiration from what we really love and want.  And that was a little reverie back to swimming in the clear Grecian waters–so different from swimming in puddles under the gray English storm clouds.  These couldn't be easier.
Start with some ground lamb from the supermarket, and grate in a few cloves of garlic, and add some chopped fresh chives and oregano.  Form the meat into two patties, drizzle with olive oil, and park on a hot grill or sauté pan for four to five minutes on each side.
Meanwhile, make the tzatziki.  Tzatziki is a Greek dip usually made from yogurt, garlic, and grated cucumber.  But we can do better than that.  Because the burgers are so garlicky, I actually omit it here.  Instead, I take a cucumber, and chop it into chunky half moons, add some more of the chives and oregano we used in the burgers, and finish it with whole mint leaves.  Add a small container of Greek yogurt, and an optional squirt of lemon and you have the freshest, most refreshing condiment for your burger.
Finally, a tip for heating pita bread.  Take some parchment paper and run it under the tap.  Crumple it up, and wring it out.  Seal the pita into the damp parchment as well as you can, and place in a hot over for five or six minutes.  The steam from the parchment softens the bread while it warms, so you can easily stuff the pita with the hot, tender burgers, and the cool, fresh, crisp tzatziki.
So get your Mr. English equivalent, a bottle of Greek beer, and a great show on TV, and get eating.
From my weekly column Dinner for Two on Serious Eats.  Check it out every Friday!
Greek Lamb Burgers with Chunky Mint Tzatziki
serves 2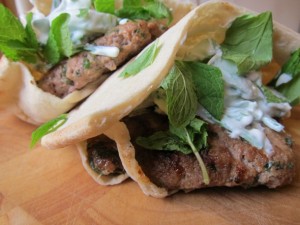 INGREDIENTS
14 ounces ground lamb
3 cloves garlic, minced
1 tablespoon snipped chives, plus 1/4 cup chives cut into thirds
1 tablespoon plus 2 tablespoons fresh oregano
Salt and pepper
A drizzle of olive oil
1/4 cup fresh mint leaves
1/2 English cucumber, seeds scooped out, skin peeled off, and cut into chunky half moons
2/3 cup Greek yogurt
2 teaspoons lemon juice
2 pita breads
PROCEDURE
Preheat the oven to 350 degrees F.  Preheat a cast iron grill pan over medium-high heat.
In a large bowl, gently combine the lamb, garlic, 1 tablespoon snipped chives, 1 tablespoon oregano leaves, salt, and pepper.  Form the mixture into two burgers, and drizzle on both sides with olive oil.  Grill for 4 to 5 minutes on each side.
To warm the pita, wet a big piece of parchment and wring it out.  Wrap it securely around the pita, and put in the oven for 5 to 8 minutes.
While the burgers grill and the pita warms, make the chunky tzatziki.  Stir together the remaining herbs, the cucumber, the yogurt, the lemon juice, and salt and pepper.
Cut the top quarter off each pita and stuff with the burger and tzatziki.  Devour!
print this recipe