Quiche reminds me of Christmastime because there's no other time of year (except maybe Thanksgiving) when I would need to make a breakfast that serves more than two people. Being in a full house for the holidays, I find it a whole lot easier to throw together a quiche that serves everyone elegantly than to stand frying or poaching individual eggs in the morning.
I start with a store-bought piecrust because I'm not a pastry chef. You're more than welcome to go homemade. After that, quiche is really a cinch. This one is stuffed with hearty winter greens and sharp flavors. I start by rendering some cubed pancetta, which is as close as I can find to the fabulous French almost-bacon, ventrèche. In that, I wilt down a grassy mountain of Swiss chard. Scatter that over the crust and top with a quickly-whisked mixture of eggs, milk, crème fraîche, and salty and sharp Pecorino Romano cheese—a filling made for cold winter mornings. The whole thing puffs and browns in the oven.
For me, quiche is all about a full house, and a full stomach on which to unwrap presents. Here's to big family breakfasts!
Excerpted from my weekly column French in a Flash on Serious Eats.  Bon app!
Chard, Pancetta, and Pecorino Quiche
serves 4 to 6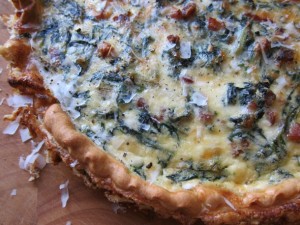 INGREDIENTS
1 prepared piecrust
2 ounces cubed pancetta
14 ounces Swiss chard, tough ends removed, leaves chopped
Salt and pepper
A pinch of ground nutmeg
6 large eggs
1 cup milk
1/2 cup crème fraîche
1 cup coarsely grated Pecorino Romano
PROCEDURE
Preheat the oven to 400 degrees F.  Line a pie plate with the piecrust.  Dock, and bake until golden: 12 to 15 minutes.
While the crust bakes, cook the chard.  Add the pancetta to a hot sauté pan, and cook until almost crisp.  Add the chard, and season with salt, pepper, and a pinch of ground nutmeg.  Cook, stirring often, until the chard is wilted and the pan is dry.
Scatter the chard and pancetta over the crust.  In a large bowl, whisk together the eggs, milk, crème fraîche, Pecorino, and salt and pepper.  Fill the crust with the mixture, and return to the oven for 25 to 30 minutes, until the quiche is set.
print this recipe