Sometimes, like this year, I have holidays à deux.  And this column is, of course, about eating terrific, but realistic, dinners for two.  So if this year you find yourself celebrating as a twosome, here is one option I propose: a fabulous, easy, lean roast loin of pork crusted in fennel seeds and fresh thyme with fabulous, soft caramelized fennel and red onions roasted alongside.  Instead of gravy, I top it with a light drizzle of simple olive oil and balsamic vinegar.
The whole dinner takes an hour, so slightly long than our usual Dinners for Two, but, it is a holiday meal after all.  But only about ten minutes of that hour require any effort on your part.  The vegetables roast in the oven with some olive oil for half an hour until they start to soften, and then the pork, coated in fennel and thyme, is simply place in the pan alongside for another 25 minutes.  The vegetables come out collapsingly sweet and soft, and the pork comes out juicy—and the seeds and herb around the outside makes up for the fact that we didn't spend time searing the pork beforehand.  My little vinaigrette replaces a gravy, but it's far more punchy and appropriate here.  I serve it with a little mache and pistachio salad.  So impressive for absolutely no effort.
From my weekly column Dinner for Two on Serious Eats.  Check it out every Friday!
Fennel-Roasted Pork Tenderloin with Sweet Red Onions
serves 2 to 3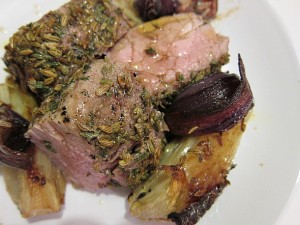 INGREDIENTS
3 tablespoons plus 2 teaspoons olive oil, divided
2 fennel bulbs, cut into sixths
2 red onions, cut into sixths
Salt and pepper
2 tablespoons fennel seeds
2 tablespoons fresh thyme leaves
1 1-pound pork tenderloin
1 tablespoon balsamic vinegar
PROCEDURE
Preheat the oven to 425 degrees F.  Place a large rectangular metal or enameled baking dish in the oven to heat along with the oven while you prep the ingredients.
When the oven is hot, take the baking dish out, and add 1 tablespoon of olive oil, the fennel, onion, and salt and pepper.  Toss to combine, and return to the oven, stirring occasionally, for 30 minutes.
Meanwhile, prep the pork.  Drizzle with 2 teaspoons of olive oil, season with salt and pepper, and crust in fennel seeds and thyme leaves.  Pull the baking dish out of the oven, and move the vegetables to the sides of the dish.  Place the pork in the center and roast all together for 25 minutes, until the internal temperature of the pork is 145 degrees F.  Allow to rest for 10 minutes.
While the pork is resting, whisk together 2 tablespoons of olive oil and 1 tablespoon of balsamic vinegar.  Slice the pork into thick rounds, and plate along with the roasted fennel and onion.  Drizzle the olive oil and vinegar over the top, and serve right away with roasted or mashed potatoes or good, crusty bread.
print this recipe